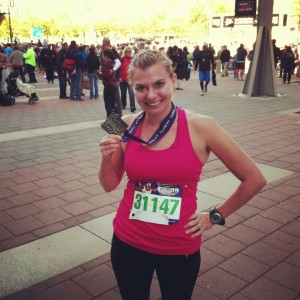 (Editor's note: This week's guest post is part of my Elf For Health Challenge. I'm participating in a blog swap where we swap blogs with someone else who will write about her expertise for our blog. I was paired with Renee Beck, who shared her expertise about running.)
I've been running since I was 14 years old. I ran cross country and track in high school and college. I've run countless 5Ks, a handful of 10Ks and 10-milers, and two half marathons. No, I'm not bragging. I'm telling you that after all of that running, there are days when it's hard. It hurts. So why do I keep lacing up?
 Running gives back what you put into it. If I push myself, I'm rewarded with faster times, a healthier (and fitter) body, and a feeling of general awesomeness. Plus, it doesn't matter if you run 10 feet or 10 miles: You're a runner. Here are six tips for the new (or newly returned) runner:
Start slow and steady. I love the Couch to 5K program for those who are just getting started. I've also used it after taking time off. You only have to do three days a week, so it's easy to complete and feel accomplished.

Take the scenic route. This is the time to bust out your favorite route. I love running by the Under Armour corporate headquarters in Baltimore.

Crank up the tunes. I know that some people like to run without music, but when you are getting into the groove of things, it can really help to have some motivational music. (Check out this post for my top 10 favorite running songs.)

Enlist a buddy. If you can, a friend into running with you or go with a running group. It's much easier to hit the pavement when someone is waiting for you.

Know that every run can't be a good run. It's a running law or something. You can have the best run of your life one day and then struggle each step of the next. One foot in front of the other; it will get easier.

Prepare in advance. If you know that you have a busy schedule ahead, look at your timeline closely to see if there are any openings for a run. I add runs to my to-do list so that I also get the satisfaction of crossing it off!
Plus, once you're a runner, you'll be able to understand this video: http://youtu.be/ef3cF6rln30.
Visit Renee's blog, www.reneebeck.com.
__________________________________________________