Cynthie McCranie, an ex-ballet instructor took the time to talk to me about her 49 years of dance experience and gave some great advice to us ballet newbies (there is even some great stretching advice in there for those doing the #30daystretchchallenge)!
Adult Ballerina Project: How long have you been dancing?
Cynthia McCranie:  I began ballet lessons at age 4 1/2. Had to stop in 1998 after involved in a car accident. So,for around 35 years, I danced.
ABP: How long have you been doing ballet?
CM: Entire length of time in ballet is 49 years. I continued to teach after the auto accident.
ABP: Who/What inspired you to dance?
CM: Music inspires me and when I met Margot Fonteyn, I knew I was doomed. I was both exhaulted and depressed. Her artistry amazed and electrifid me, while at the same time I was depressed. I knew I would never achieve her stature in my art.
ABP: Where have you taught ballet and for how long?
CM: I am no longer teaching. For over 30 years I taught in the metro Atlanta area for my own studio and others. A few are: Atlanta Ballet (now called ABCDE- Atlanta Ballet Center of Dance Education), Smyrna School of Ballet, Dan & Company, Dance 411, Peachtree Presbyterian Fine Arts School, La Grange Ballet Theatre, Susan Chambers School of Theatre Dance, Georgia Ballet, Georgia Dance Academy, the Savannah Ballet plus many others.
ABP: Who do you teach (ages, gender, level, etc.)?
CM: I have taught ages 3 through adults, male and female. From the very beginning creative movement/ballet ages 3 & 4 through the advanced levels of Pre-professional teens and adult
ABP: What other types of dance do you teach (if any)?
CM:  My primary focus is ballet. I  also have taught modern, tap and jazz.
ABP: Why do you teach ballet?
CM: There was no way I could live off the income of a professional company member in the Savannah Ballet. We were on a weekly wage, but it was very low compared to other professonals. So, I began teaching classes in the ballet school and took on extra duties to compensate my income.
ABP: What advice/tips would you give to adults who want to begin ballet for the first time/adults starting ballet again?
CM: For the beginner adult my advice is to be sure and not take it so seriously that you can't breathe! Enjoy your class,let yourself smile and perform as you learn. LAUGH at your mistakes sometimes. It IS important to take it seriously, but not to the point that it becomes dire for you. The majority of the adults I taught were very serious, smart and self-motivated. They entered the studio scared and very self concsious. I understand that, but my job as I saw it, was not to cut them down, but to raise them up. Having had a few instructors along the way who were very mean spirited and who traumatized me in class, I determined I would never repeat their behavior. So many knowledgable and talented teachers exist nowdays in every coner of the world, that  there is no excuse for a student to remain in a saddistic class. Sure, ballet is strenous and demanding. Taking class and working well  is why you are paying your money. There is a difference in working "had" and working "well." Sometimes a student can work too hard (as I did as a young student) to the point of detrement. Balancing out knowing when to put 110% in and when to relax is part of every student's ongoing learning curve. That just goes with the art form. You are re-training the body to do something that is physically unnatural. This requires great effort in order to make it appear effortless.
When you are early for your class (I hope this is the case, anyway, lol) be sure to start with gente stretching on your own. The best thing to start with is usually the parallel calf and achilles stretch.Standing, facing the wall a few feet away, place your hands on the wall. Stand in a parallel 1st position and slowly slide one leg en arriere (to the rear.) Consciously breathe deeply an slowly as you continue the leg to a deep lunge. Stay in this position a while- a minute and a half  to 2 minutes and enjoy the stretch. Do the same with the other leg. You want to go as far as you can (ithout the heel releasing the floor) until you feel a good stretch along the back of the leg, especially on the back of the ankle.
ABP: Anything else you'd like to add?
CM: In conclusion, it is good to try new things and learn new skills. Ballet is incredibly rewarding. Just remember though, it can't be learned in 6 lessons! Enjoy the journey.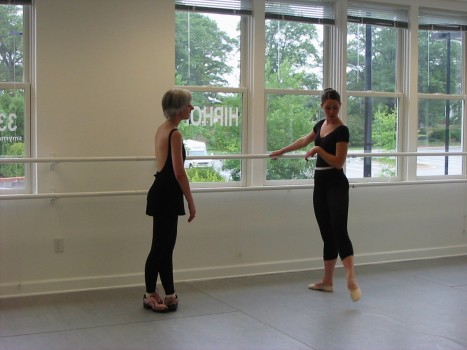 __________________________________________________