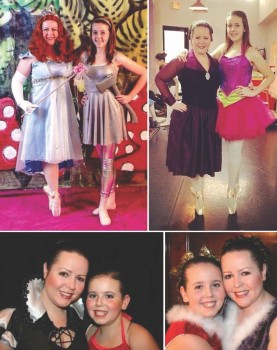 When did you start doing ballet as an adult?
I started taking ballet classes when I was 26, and I went en pointe at age 30.
Did you ever take lessons as a kid?
I took dance lessons as a child, including ballet, but it wasn't strong training in classical ballet technique. While a small amount of the movement was familiar to me when I started back up, it was really like starting from scratch. I had some bad habits to discard, and I definitely had some terminology to learn!
Why did you decide to take ballet as an adult?
My daughter had already begun taking a creative dance class at the studio when she was five, so I was familiar with Muncie Ballet and their program. I was looking for a way to unwind after work, and I set out looking for a yoga class with a coworker. We couldn't find a local yoga class that suited our schedule, but we did happen upon the studio's adult class. My coworker wasn't able to keep up classes after she moved away, but I'm still there after more than 12 years.
Where do you take classes?
Muncie Ballet under Lisa Love.
What is your favorite part about ballet?
I love that when I am dancing, I'm not thinking about anything else. The stress of the day melts away during those hours in the studio. Now, as my daughter prepares to graduate from high school and head off to college, we can both say that dancing together and sharing a stage has been one of the best experiences either of us has had. It's pretty special to experience something so meaningful with your daughter. Every special dancer memory is a shared memory for us.
What is your least favorite part?
I think my least favorite part is recognizing my limitations and coming to the realization that a nearly 40 year old body cannot do what it could at age 15. I also hate when life gets so busy that I have to miss class. It's so difficult to fit everything into a busy schedule as an adult.
Who/What is your ballet inspiration?
I have two inspirations – my dance teacher and the wonderful young ladies and gentlemen with whom I am blessed to share the barre and stage. I am constantly inspired by my teacher and the studio director, Lisa Love. She is able to make so many wonderful experiences happen for her young dancers (I'm one of only a small handful of adults), and no one is turned away because of lack of resources. Costumes are lovingly made by hand and beautiful sets are designed on a shoestring budget. She manages to do all of this while still working full-time at the local university. When I get discouraged about how busy life often becomes, she inspires me to fit that one other thing into a busy day.
I'm also inspired by the young dancers who have grown up before my eyes at the studio. Though they leave me in the dust with the complicated steps they make look so easy, they inspire me to do my best and always be a good influence for them. As we tell the older girls, "There are always little eyes watching." Having been there over a decade, I've seen youngsters grow up, graduate from high school and even college, and start their lives as adults. I see the students grow in maturity and poise, and I know that they are all better for the experiences they have had through ballet.
What motivates you to keep dancing?
I think the one thing that motivates me is my love of dance. I've always said that ballet is one of the true great loves of my life. As a recreational dancer, I have realistic expectations about my dancing and know I will never master some steps that come so naturally to much younger, more athletic dancers. That doesn't stop me from trying to improve each year and just try for that one new step. I've only missed out on two shows during the time I have danced, one year of Nutcracker and one spring show when my schedule just wouldn't allow me to participate. Performances are such a magical time, and sitting on the sidelines felt so empty. I remember that feeling and don't want to miss out on any more than what is necessary. I guess the fun of the next performance and the determination to improve keeps me motivated to keep dancing. Mostly, though, it's just the love of the movement and the fact that few places feel more like home than my special spot at the barre.
Do you take any other dance classes?
I don't take any other dance classes at this time. With a demanding career, a family, and ballet classes and rehearsal each week, there just doesn't seem to be time.
What are your hobbies outside of ballet?
I love spending time with my husband and daughter. I also have two older stepchildren and a beautiful grandson and granddaughter on the way. I'm also a 4-H leader, competitive poker player, and avid fisherman.
What advice would you like to give to those who want to start ballet or have just started?
I would encourage them to do their research and find a place that has a solid technical program and is supportive of adult dancers and understanding of their unique needs. Don't get discouraged if you're in class with much younger dancers, especially if they leave you in the dust. Remember that you don't have to progress at the same pace as anyone else and your body is much different as an adult. Don't beat yourself up if you don't have perfect turnout or the typical ballet body. My new definition of a ballet body is whatever body is dancing ballet. As an adult dancer, you set your own rules. I think it's also important to remember that it takes time to accomplish dance goals. Nothing happens overnight, but with hard work and time in the studio, you will progress. Oh, and stretch, stretch, stretch!
Anything else you'd like to add?
When I walked into the dance studio for that first class, I explained that I was there for the exercise and experience…NOT to perform. Thank goodness my dance teacher talked me into the first Nutcracker. I've since been able to perform in over 60 full-length shows between Nutcracker each December and a spring show each year. We've done Peter Pan, Wizard of Oz, Alice in Wonderland, and countless others. I can't imagine all that I would have missed out on had I not performed. It's been one of the biggest opportunities for personal growth that I've ever had.
 Do you have a blog?
I don't have a blog, but I post a lot of ballet photos to my Instagram account – suzkadinger.
__________________________________________________