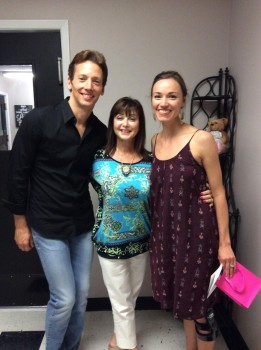 How long have you been dancing?
I started ballet and dance at age 2.  I'm 61.  Off and on, let's say 40 years?
Why do you dance ballet?
I love ballet.  No matter what I keep coming back.  My heart sings when I take class or teach.  When I stand tall at the barre nothing else matters.  The music makes me want to move and I feel whole again. (I have lots of medical issues, chronic pain, fibromyalgia, etc.)
Who/What inspires you to dance?
I am not inspired by outside influences.  It comes from within.  Ballet is not a question , it is an answer.  It is not a choice.  It just IS.
How long have you taught ballet?
I have taught off and on for many years.  I was fortunate to teach my daughter who would have rather danced hip hop but she took my class and stopped ballet when I stopped teaching because she only wanted to take with me.  At 33 she returned to class and still does from time to time now at age 35.
Where do you teach ballet?
Right now I am living at an adult retirement resort community.  I teach women over 55.  Many new to ballet.  They love it.  At this late age they finally get to do something they never did as a child or adult.  Have time to follow a dream and learn ballet!
What other types of dance do you teach (if any)?
I don't teach any other dance.  I am ballet focused.  It's all I know.
Why do you teach ballet?
I teach because there isn't anything better than passing on the knowledge of something you really love.  I had just moved into the community, saw a beautiful unused dance studio and said why not?  Why not me?
What is your favorite ballet step to teach and why?
Something graceful but fun.  This week I'm teaching chasees across the floor.  Should be interesting….
What advice/tips would you give to adults who want to begin ballet for the first time/adults starting ballet again?
Don't think about the negatives.  Think about how much you will gain.  Take it for yourself.  Give it a try.  You'll be surprised.  And don't think you are too old, too damaged, too fat, too short or too anything….It's your ME time. Just be in the moment.
__________________________________________________