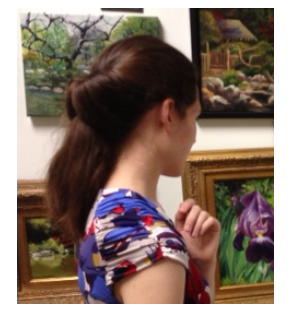 This week's profile is  of Rachel Hellwig, who has danced since age 13 and runs a ballet-themed blog, Clara's Coffee Break . Stone Soup magazine published her ballet story, Nutcracker Dreams, when she was 13. Last month, Dance Advantage published her article The Sci-Fi Origins of the Nutcracker's Snow Scene and Other Fun Facts.
 When did you start doing ballet as an adult?
 I actually started at age 13 in a ballet class designed for older beginners, but I have never trained beyond recreational level. I'm now in my twenties and take class once a week, so I consider myself an adult ballet student.
Did you ever take lessons as a kid?
Not before age 13.
Why did you decide to take ballet as an adult?
I decided to take ballet as a teenager after I read the classic children's book Ballet Shoes. The story really captures the magic of performing and being in a theater. It makes you want to be part of that magic.
 Where do you take classes?
Birmingham Ballet Academy in Birmingham, Alabama.
 What is your favorite part about ballet?
I love how ballet teaches you to improve your overall quality of movement and isn't just about "learning steps". It's so neat how you feel stronger and lighter and have more "spring in your step" when you finish a class. I also love that ballet classes are done to classical music or music that has been arranged for the piano.
What is your least favorite part?
My least favorite part is the occasional physical pain. Although, one benefit of non-intense training is that you are much less prone to injuries and wear and tear.
 Who/What is your ballet inspiration?
Listening to classical music and soundtracks is my inspiration because it immediately puts ballet scenes in my head and makes me feel like dancing. I am also inspired by watching other dancers. My current favorite ballerinas are (not in order): Sara Mearns, Alina Cojocaru, and Diana Vishneva.
What motivates you to keep dancing?
If I had to narrow it down to one thing, I suppose it would be music. Whenever I hear beautiful or exciting music, I feel like dancing. It's amazing how an arrangement of sounds can create that response within you.
 Do you take any other dance classes?
No, just ballet.
 What are your hobbies outside of ballet?
Blogging, writing, animation, listening to music and audiobooks.
 What advice would you like to give to those who want to start ballet or have just started?
Listen to your body and don't push it too hard or take unnecessary risks. No one can master ballet, so settle in and enjoy the wonderful process of learning instead of making goals about how soon you'll be able to do a double pirouette. I think that only ends in frustration and needless feelings of failure.
 Do you have a blog?
Yes, I have a blog, it's ballet-themed. Here's the link: http://clarascoffeebreak.wordpress.com/
__________________________________________________