I love my compression socks, sleeves (and leggings too!). I have about six different pairs of compression socks and three different pairs of compression sleeves.  By far, the best pair of socks I have are the Zensah compression socks that I won in a #runchat tweet chat a few months ago. I recently bought a pair of Zensah sleeves that I love, too.
Why does compression gear work? Zensah's got a great blog post on it, but here are some main points:
 Compression improves circulation and oxygenated blood flow to improve performance and enhance recovery.
Improved circulation reduces the buildup of lactic acid
Enhance athlete's warm-up by increasing the temperature of the skin and the muscle
Provide an extra support to stabilize the muscle tissue, reducing inflammation and micro trauma
I mostly wear socks for recovery, but I'll use my Zensah sleeves during ballet and sometimes while running.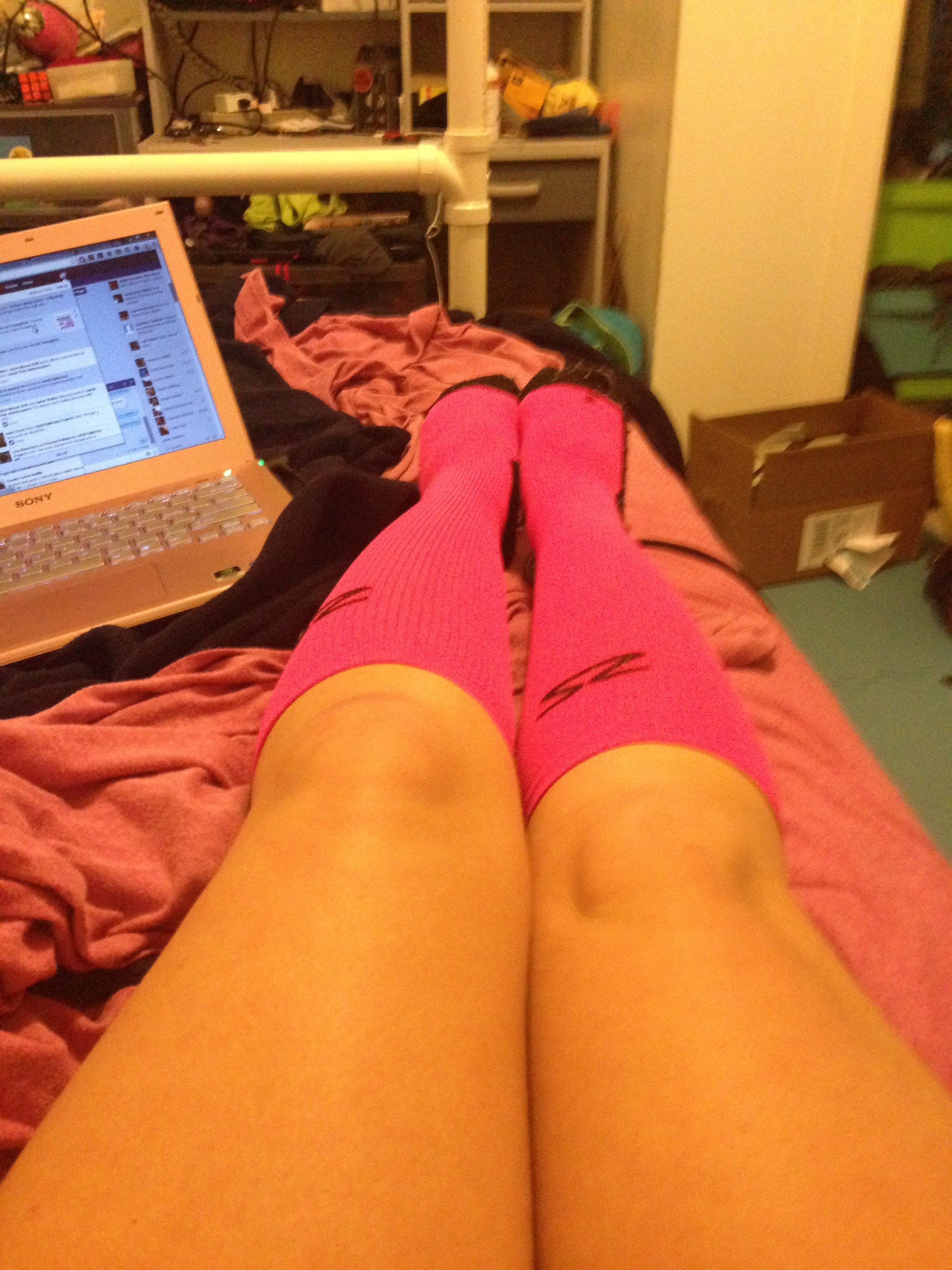 Chilling in my Zensah socks in my messy room
---
While I initially wasn't the biggest fan of Zensah's socks (they seemed shorter than my other pairs) I've come to love them and they are the pair I most often choose to wear. The interior of the socks are the softest pair I own, which makes them super cozy. Often when I wear compression socks to recover the day after a tough workout, they start to annoy me as they seem to constrict my legs. With my Zensah ones, I don't have that problem, and I'll often forget that I'm wearing them.
I like the arch support in the socks as well. My only real con (and it's a con that's a problem with a lot of compression socks) is that they tend to pick up lint and snag really easily. However, with my next pair, I'll make sure to take care of them better.
I love sleeping in compression gear, but my apartment tends to stay fairly warm and I have trouble sleeping in the socks. I'm the type of person who can't fall asleep if my feet are just a little bit too warm. While I own a few pairs of sleeves (one is too tight, the other is falling apart),  a couple of weeks ago I finally got around to buying pair of Zensah sleeves, something I've wanted for a really long time.  I can sleep in them no problem without worrying about my feet being too warm.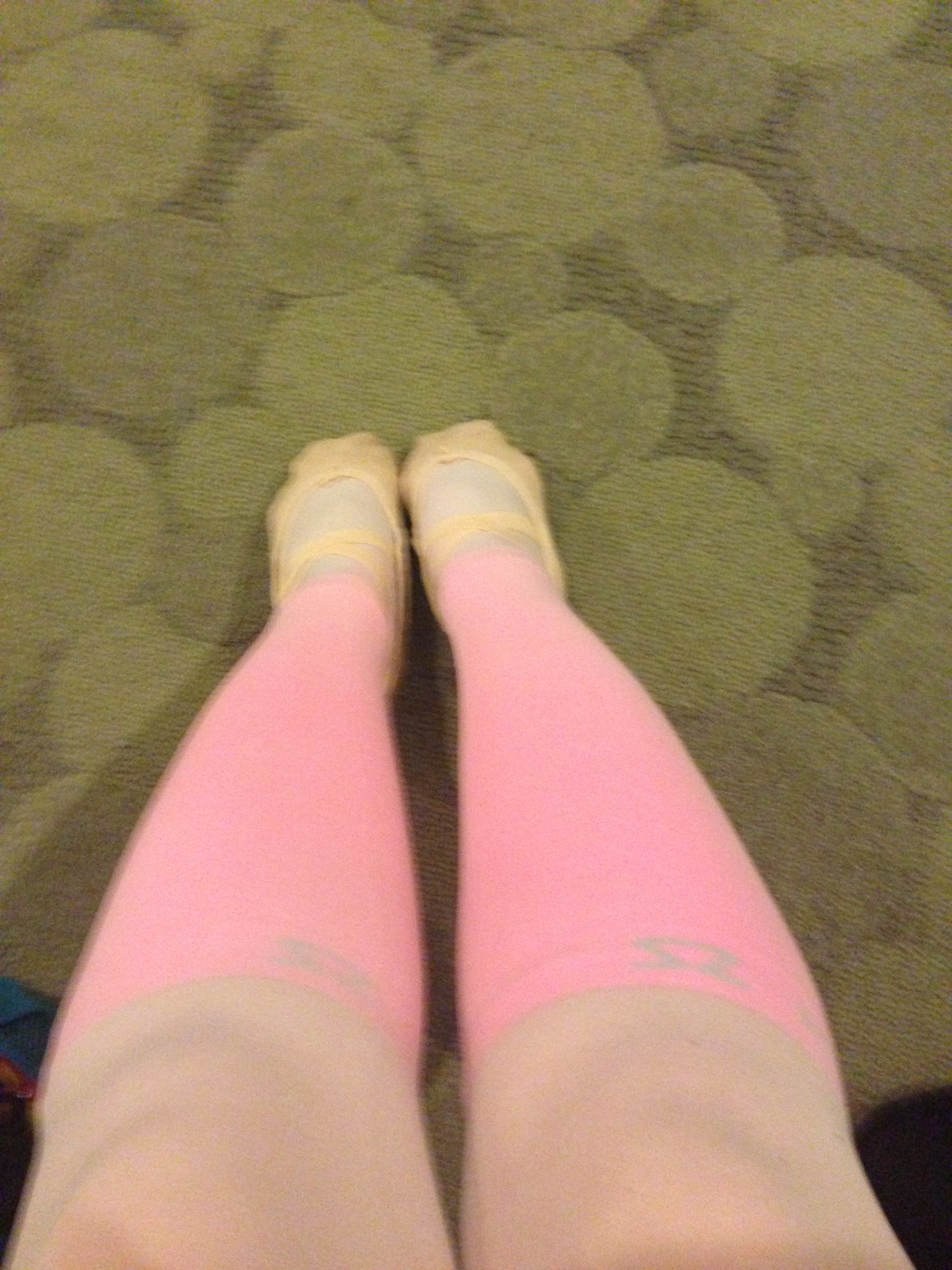 My Zensah sleeves under tights before Monday's class
---
Another perk to my new compression sleeves is that I finally have a pair to wear under my tights for ballet class, which I feel helps keep my calf muscles super happy. I told my physical therapist about me doing this unsure of what she would think about it, and found out she was completely cool with it (and frequently wears compression socks to work). They don't seem to be too tight (something I'm very fond of) and fit under my tights nicely. Plus, Zensah's are seamless, so I won't have to worry about them unraveling like my other pairs.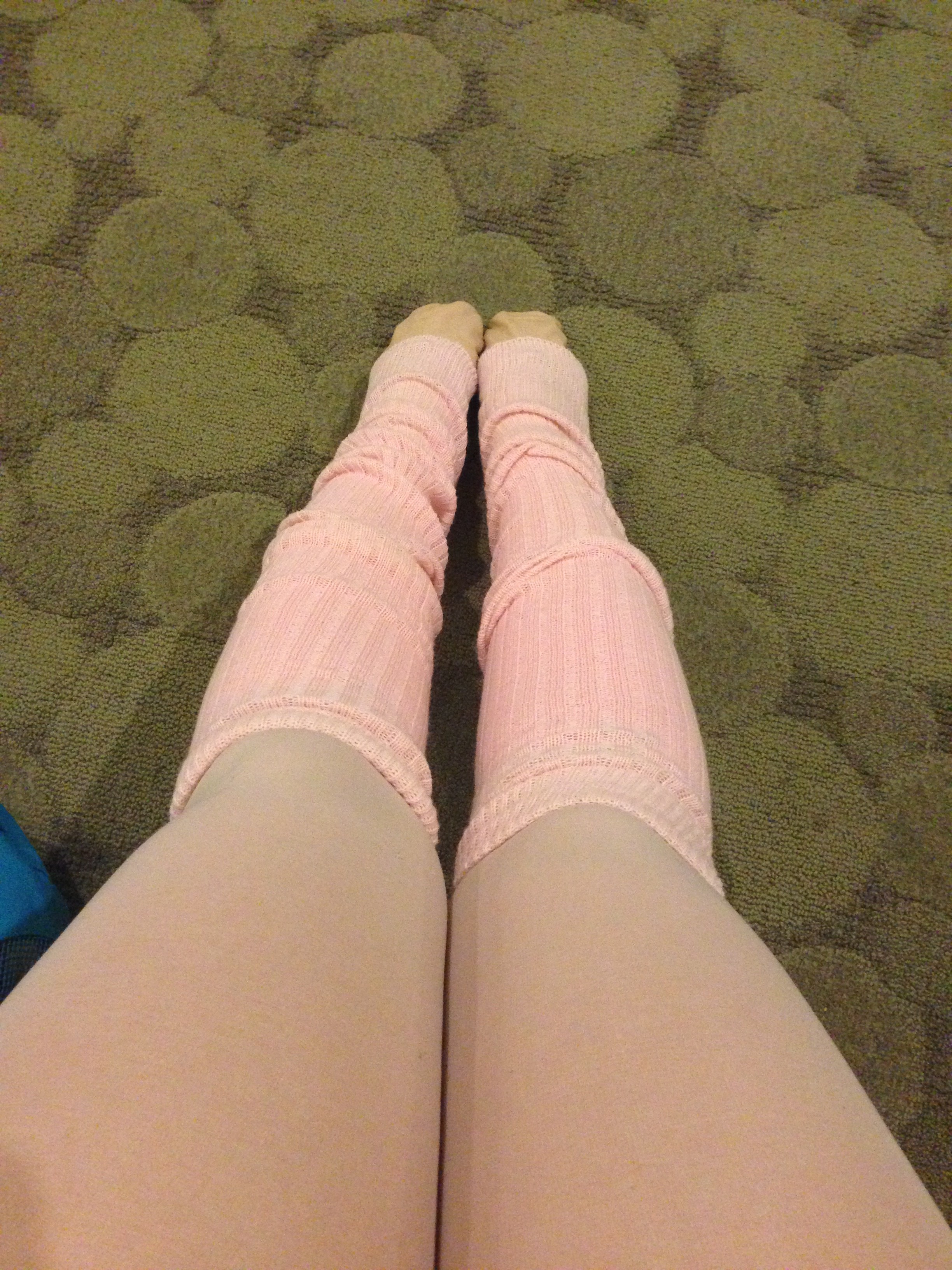 Zensah sleeves under tights and legwarmers (you can see the bright pink sleeves a little bit underneath!
---
My legs seems to recover faster when I sleep in my socks and sleeves (although not at the same time!). I also feel a lot better when I wear my sleeves to ballet class.
 Do you use compression gear while working out or for recovery? What are some of the benefits you've noticed?
Disclaimer: I received my first pair of Zensah compression sleeves during a #runchat TweetChat, however I purchased my pair of sleeves with my own money to test them out.  All of the these thoughts and opinions are my own!
__________________________________________________