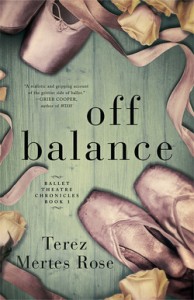 You know a book is good when you manage to finish it in just a few days, and that's exactly what I did with Terez Mertez Rose's new book, Off Balance (Ballet Theatre Chronicles Book 1). You can enter to win a copy of the book ath the bottom of this post, too!
You may know Terez because she runs The Classical Girl and I interviewed her a little over a year ago as part of our profile series. You can also find her at http://www.terezrose.com, and on Twitter and Facebook.
Here's a nice little summary of the book:
 Alice thinks she's accepted the loss of her ballet career, injury having forced her to trade in pointe shoes onstage for spreadsheets upstairs. That is, until the day Alice's boss asks her to befriend Lana, a pretty new company member he's got his eye on. Lana represents all Alice has lost, not just as a ballet dancer, but as a motherless daughter. It's pain she's kept hidden, even from herself, as every good ballet dancer knows to do.

Lana, lonely and unmoored, desperately needs some help, and her mother, back home, vows eternal support. But when Lana begins to profit from Alice's advice and help, her mother's constant attention curdles into something more sinister.

Together, both women must embark on a journey of painful rediscoveries, not just about career opportunities won and lost, but the mothers they thought they knew.

OFF BALANCE takes the reader beyond the glitter of the stage to expose the sweat and struggle, amid the mandate to sustain the illusion at all cost.
I loved how the novel brings these two women together as they share the struggles, but also the joys, of the ballet world and I can't wait to see what book 2 of the series has in store for this world Terez has created. I'd definitely recommend to anyone who enjoys ballet to pick up the book.
I also had the opportunity to ask Terez a few questions about why she wrote the book and what role her own ballet experience played in her writing it:
Why did you decide to write a novel?
My first novel, back in 2002, just sort of wrote itself. Which sounds simplistic, but really, there was a grand sense of something pouring out of me that absolutely had to be put down on paper, and it wouldn't abate after 10,000 words (I'd thought I was writing a short story) or 30,000 words, or even 70,000 words. I showed up every day, every spare moment, and the story kept pouring out. A part of me was sitting back, incredulous, observing it all happen. Nothing prior to that time in my writing practice had prepared me for that. The second novel, too, came from that same urgent, muse-driven place, suffused with this manic need to get the story down on paper. I will never know where the impulse came from, after years of only writing nonfiction—indeed, having woefully failed at my attempts to produce fiction. I suppose it was a matter of being in the right place at the right time, already committed to a daily writing practice, prepped for it to happen. I am now a firm believer in the adage that the story will come when it's ready to be told. Or there's a strong emotional need for it. The writer just has to be ready.
Why did you decide to write a ballet-focused novel?
There's a cute story here, that's not unlike my decision-but-not to write that first novel. The first novel, loosely based on my own experiences, was a story about a college-grad ballet dancer who runs off to Africa for two years to escape her problems, only to encounter thornier ones there. There's a dollop of ballet in it, but not a ballet novel by any stretch of the imagination. While it didn't earn me an agent, it impressed one enough to say "great stuff but Africa novels are tough sell. Keep me in mind, though, for the next one." Well, two years and a polished manuscript later, turns out she hated the next one, but she still liked my writing enough to chat with me, discuss what she felt my strengths were as a writer. "Why not a ballet novel for the next one?" she suggested. "I loved what you wrote about ballet in your Africa novel. It's a fresh topic [particularly back in 2006] and I think editors would take interest." The conversation took place on a Friday afternoon, and I told her, with a confidence I didn't feel, that "sure, I can make this happen! Let me tootle around with some ideas over the weekend and I'll touch base early next week."
Well. I'd felt supremely confident writing about Africa because I'd been right there for two years. But the world of professional ballet dancers in a world-class company? An entire novel's worth of story? Although I'd performed in a company, I'd never risen above amateur rank. I didn't consider myself all that talented a fiction writer; I'm an essayist at heart. I finished the phone call, wandered outside to my front yard, and began walking in small circles, thinking, shit – what have I done? Because every aspiring novelist really, really wants an agent, and this was an agent I'd targeted as someone I really wanted to work with. I went to bed that night, mind blank, in a mild panic. Saturday, all day, I cast about for ideas with little success. And then, on Sunday in yoga class, it all came to me, spilling out like a tipped over jar of honey. An ex-dancer (like me). A rising star dancer (never like me, but ah, every dancer's fantasy, right?). Romance (always my favorite writing topic). The struggle to actualize not just professionally but internally. The struggle to face the difficult things in life you keep running from (a recurring theme in all my novels). The way friendships can both nourish and challenge you. All amid the glorious backdrop of the professional ballet world.
In the course of one afternoon, OFF BALANCE was born. I tore out of that yoga class, hurried home, hastily sat down in front of my desktop and started writing. And just kept going. I stopped long enough to make meals for my family, catch some sleep, get my son off to elementary school and various mandated afterschool activities, but my mind was always, always, inside my story. Three months later I had it, the first draft of OFF BALANCE.
How did your own ballet (and classical music) experience play a role in your writing of the novel?
Although I only danced at the amateur level, the company modeled itself on professional standards. Company class was once or twice a week, not once a day, but I was taking multiple ballet classes a day, rehearsals in the evenings, with focus on an upcoming production. It was easy to write about being in a company, the classes, rehearsals, pre-performance rituals, the inter-company relationships, the backstage experience. Being onstage is being onstage. Our audiences were certainly humbler in number to a professional production, our venues less glamorous. But at the core of it all was surely the same feeling. I am a dancer; I live to do precisely this, perform onstage through this art I so love and revere.
As for the classical music angle that permeates so many of my stories, that's always been one of my loves since childhood, as well, if only in a listening capacity. At The Classical Girl (www.theclassicalgirl.com) I have a place to ramble about all the classical music that deeply affects me; no surprise that it found its way into my fiction. More recently, I fell into an infatuation with the violin. Novel #2 (which my agent thought was all wrong and I now concur) featured a violinist. I knew nothing about the violin at that time; I'd never even seen one up close. But I was enamored by this world of my violinist character, and therefore set about learning everything I could. A happy ending here: when I started writing OFF BALANCE, I realized I could pull my violinist character from the rejected novel and slip her right into the new one, as narrator Alice's best friend. That was fun, let me tell you! Not only did I get to infuse my ballet novel with classical music and a dollop of the violin world, but I also got to give my violinist character a much happier life than the one she'd gotten in novel #2.
Why did you decide to launch your own publishing company?
The self-publishing route became inevitable after my agent and I agreed that my third novel under submission would not be getting any offers. It was a painful realization; I'd written five novels that I'd crafted and rewritten and re-rewritten in order to make them conform to what the traditional publishing world was seeking (in the end, only three of the five novels were worthy of being shopped to editors). My agent was actually quite supportive of the idea that I self-publish. Since I have three novels that I consider to be publishable, and a fourth one (the Africa one) I plan to tweak and publish, it seemed to make sense that I keep them all under the same umbrella. Why give Amazon KDP and CreateSpace credit as publishers when I could take credit myself? So I created Classical Girl Press, thus tying my blog, The Classical Girl, into the equation as well. Also, from a budget standpoint, it made sense to purchase 10 ISBN numbers for $275 instead of one for $125. Seeing those ten ISBN numbers officially assigned to Classical Girl Press was a thrilling experience, to be honest. What relief to go forward with these novels I believe in, instead of weeping over the fact that traditional publishing had rejected them and therefore they should be relegated to the attic. What a waste that would have been! I'm fortunate to be a novelist at a time where self-publishing has become a viable option for writers.
What can readers expect from the second novel in the series (is there a release date yet?)
More adventures within the West Coast Ballet Theatre! If all goes to plan, the release date of OUTSIDE THE LIMELIGHT will be Nov 10th.  While in some ways it's a twin to OFF BALANCE, it's very much its own story, and takes place four years later. There's more suffering involved in this story, regrettably, but pain is a professional ballet dancer's reality, behind the pretty illusions created onstage. Book 2 is an exploration of what happens when infirmity threatens a promising ballet career. How does the dancer rally, and/or fight back? Also addressed is the "what comes next?" question any aging dancer is forced to ponder. It features two peripheral characters from the first novel, Dena and Rebecca Lindgren. I don't want to say too much more because the opening chapter is sort of a spoiler alert for issues raised in OFF BALANCE. But I think readers will enjoy coasting from one book over to the next, because hey, it's the same world, same writer's voice.
Is there anything else to add?
I want to shout out to the world that you don't have to be a ballet person to enjoy OFF BALANCE. While it's set in the ballet world, at its heart it's about two women, struggling with their lives and careers, as we all do, who are forced to confront some difficult aspects of themselves, their pasts. So many of my non-ballet readers have commented that "I wasn't sure if I was going to find the subject interesting, but hey, this is great! Not too much ballet at all!" So, I suppose I should mention to ballet fanatics that this isn't a 100 percent ballet read. Hope that's okay for them, too!