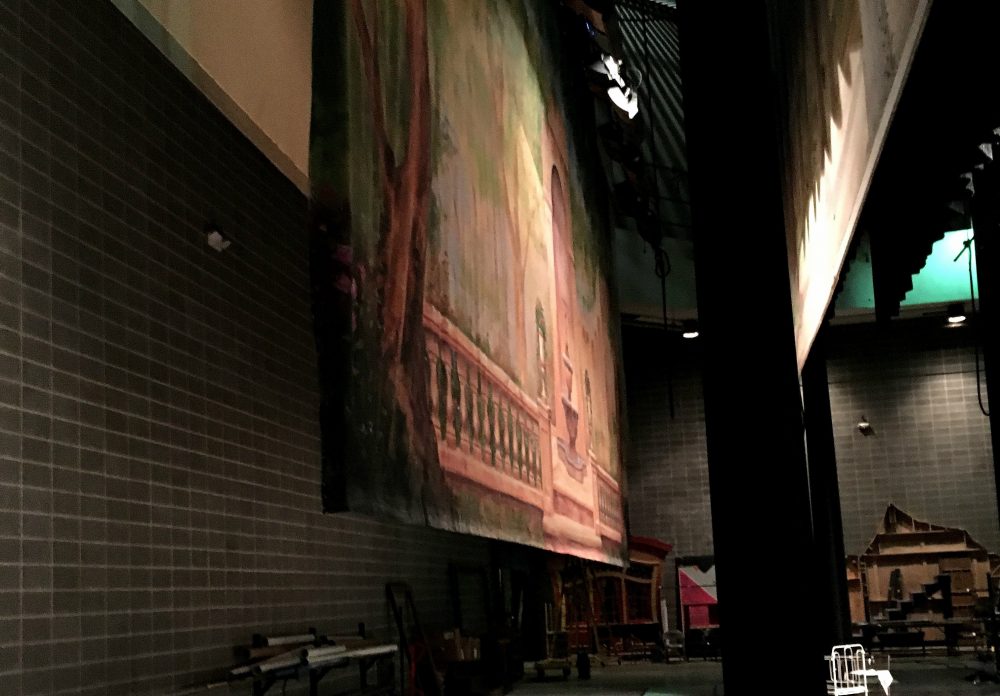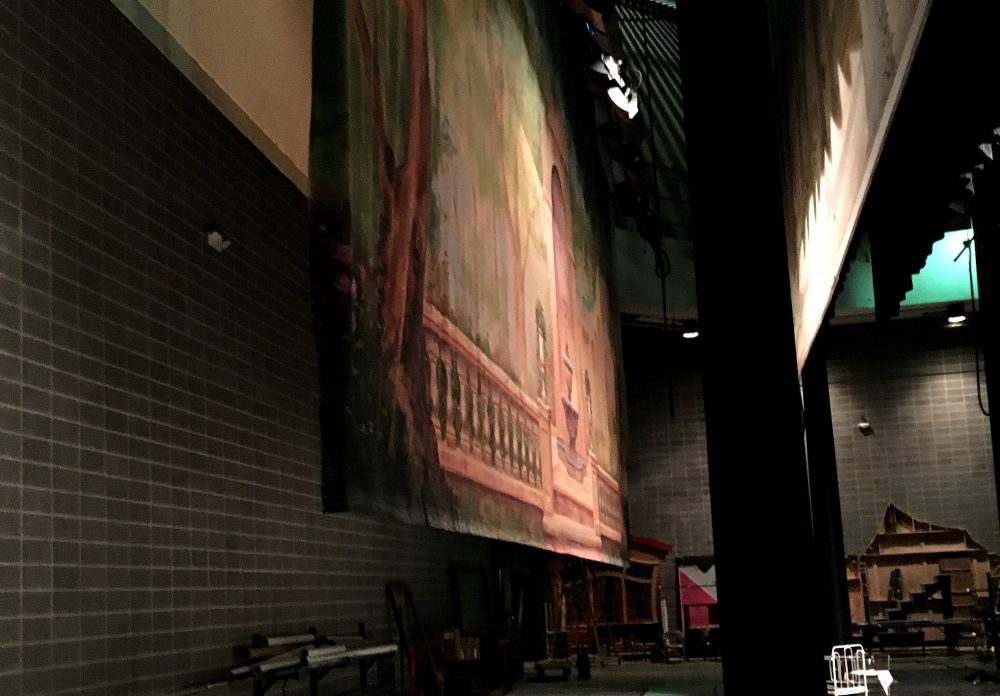 "She sleeps: her breathings are not heard
  In palace chambers far apart.
  The fragrant tresses are not stirr'd
  That lie upon her charmèd heart."
-The Sleeping Beauty by Alfred, Lord Tennyson
Stepping inside a fairy tale never gets old.
Growing up, I loved getting so lost in a book that I felt like I was in its story. I went on to major in English in college.
But, with narrative ballets, I discovered a more thrilling way to be lost in a story—by becoming a character in it.
I also love music, particularly classical music. So, I find it special that, in this form of storytelling, music plays a large role in creating your character's feelings within you, sweeping you into the plot and inspiring expression in motion.
Sleeping Beauty is, thus far, my second favorite story ballet to perform in after The Nutcracker. I've been in it three times now, most recently this past winter when I entered the tale as a member of the royal court and as a villager.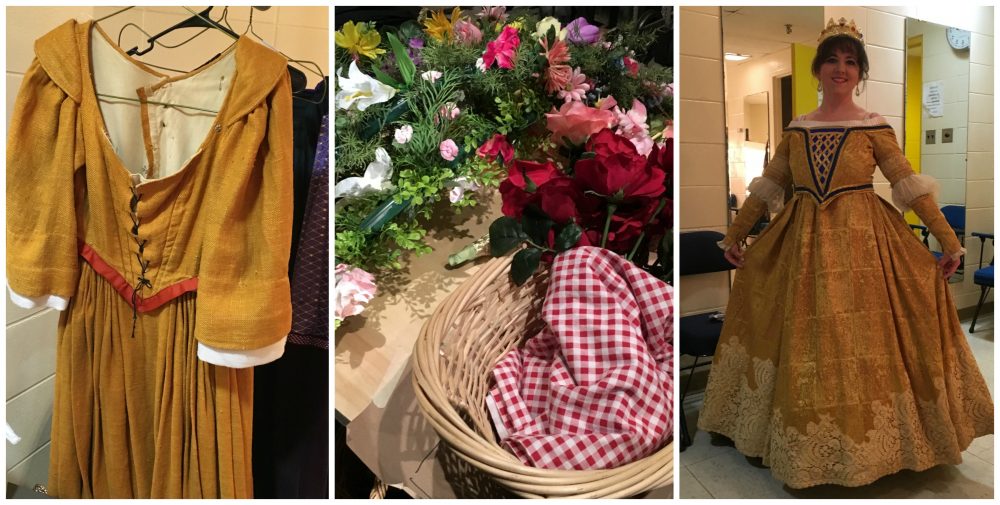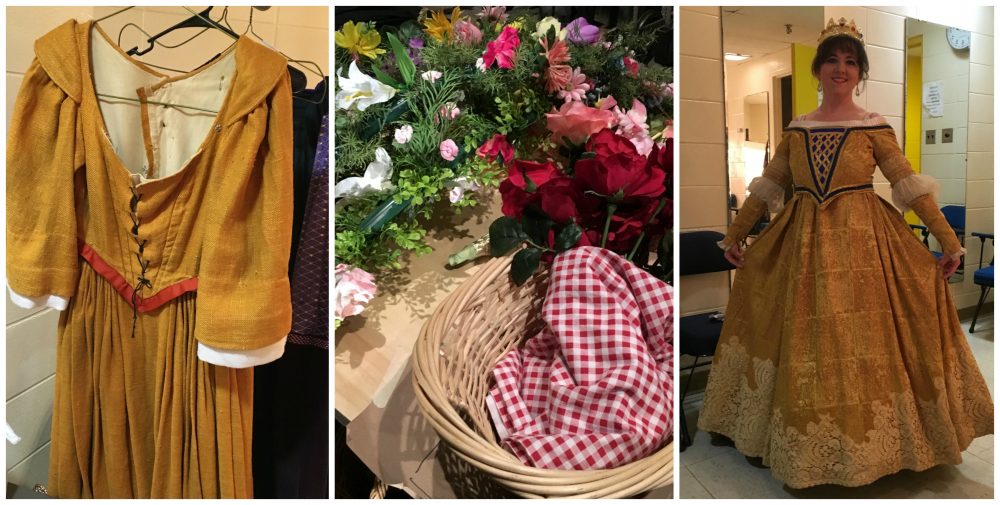 1. My costumes 2. Village garlands and roses 3. Kelly Milam as the Queen
Being absorbed into a drama is also liberating on a personal level, because, like many performers, I'm rather reserved in real life.
During rehearsals, it's harder to come out of my shell and act in the studio than onstage. In the theater, the atmosphere of fantasy created with costumes, sets, lighting etc. helps dissolve feelings of self-consciousness. In the studio, that alchemy of elements isn't present.
One little thing I found that helped the dramatic process this time though was giving my rehearsal look a makeover.
In the past, I typically wore everyday clothes to rehearsals for character roles. But it was time for a change. My fellow adult ballerina Kelly Milam usually wears a lovely, long dance skirt to practice in. I used her as my fashion inspiration.
I looked for character skirts online, but the reviews of most available styles said the sizes ran very small. So, I ended up purchasing a Body Wrappers worship dance skirt to wear with a leotard.
The movement of the skirt's fabric as I rehearsed formed its own dance, simulating the sensation of wearing the kind of costumes I would wear in the performance. It helped me be more immersed in the story and feel freer.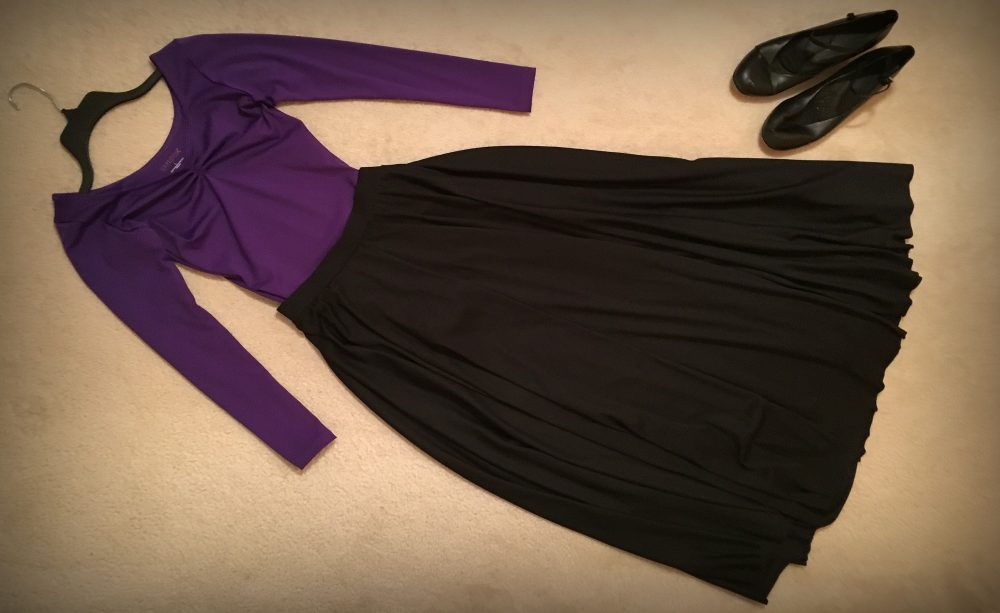 The week before we transitioned to the theater, I thought I knew pretty much everything I'd be doing in the show: attending a royal christening, birthday, and wedding, whirling through village merriment…
Then, I got a last-minute surprise.
I found out I was going to be dancing with one of the professional guest artists.
Phillip Ollenburg and I would dance together in a passage of the "Garland Waltz"– which just happens to be my favorite part of the ballet. (As Disney fans know, the song Once Upon a Dream is based on the music used in this scene.) Our dance was composed of balletic folk/historical type-steps: natural, uncomplicated choreography that allows you to enjoy the movement and the moment. Yes, it was as fun as it sounds!
Sleeping Beauty unfolded during the last weekend in February.
Yes, it was all over too soon, as always.
Inevitably, with any performance, there are things you wished you'd done better, but that's the nature of live theater. And, by the end of the week, you feel like you're ready for your own hundred-year nap! At the same time, you're wishing you could come back and do it all again the next weekend and the next weekend after that.
Post-performance blues? Ouch, they hit hard afterwards. To any performer, I highly recommend Dance Spirit's article Coming Down Easy. It's a great breakdown of the slump you feel following a show, why it's normal, and how to deal with it.
Still, coming out of that slump is different for each performance. This one proved more difficult than others. Well, I guess that's a good thing. It means it was that much more enjoyable!
Hopefully, it won't be long before it's time for "once upon a time" again…
__________________________________________________