Here's my recent Philly Love Note to Philadelphia Runner that was originally posted on Campus Philly.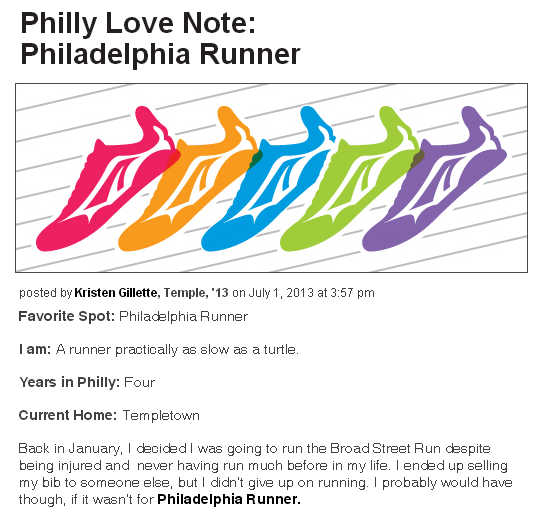 —
Favorite Spot: Philadelphia Runner
I am: A runner practically as slow as a turtle.
Years in Philly: Four
Current Home: Templetown
Back in January, I decided I was going to run the Broad Street Run despite being injured and  never having run much before in my life. I ended up selling my bib to someone else, but I didn't give up on running. I probably would have though, if it wasn't for Philadelphia Runner.
Philadelphia Runner is more than just a running supply store. They carry all of the best running gear and running shoes, and they're great at helping you find what shoe is best for you. Besides being an awesome store, they also serve as a community for runners by hosting events, workshops, and weekly runs. Don't fret about joining in on these events if you're just starting out–they're very beginner friendly. All paces are usually welcome at their weekly runs and other events.
My favorite event is their monthly scavenger hunt, the Urban Scramble. The Urban Scramble starts at their Center City store at 16th and Sansom, where you receive a list with about 10 businesses, which you must run (or walk) to to collect a raffle ticket to be entered for prizes at the final stop. You don't have to make it to every business, but there's usually time to make it to most of them even if you're slow like I am. The course usually covers 4-5 miles and you're given an hour and five minutes to complete it. It helps if you bring a map of Center City to help plan out your route once you get the list of businesses. Last time I forgot my map and I ended up running right past one of the businesses (oops!) This is my favorite map to use since it covers all of Center City and parts of University City, which are sometimes part of the course.
All raffle tickets are placed in one big bucket at the end. Most of the prizes are from the businesses you've picked up tickets from, but there are usually quite a few Philadelphia Runner gift cards given away too. It's free and a lot of fun to do with a group of friends. At last month's Urban Scramble (held on June 20th), the final location was the Schuylkill River Trail where Philadelphia Runner hosted a great cookout afterwards.
While they haven't announced the next Urban Scramble, they're holding weekly runs throughout the summer. Young Involved Philadelphia is launching a monthly running club with Philadelphia Runner, with the first one on July 16th. The run will be out to Race Street Pier with a post-run happy hour [with the first round of drinks on Philadelphia Runner]. Don't miss out on a way to network with other young Philadelphians and runners alike.
Whether you're a seasoned runner or a beginner like me, Philadelphia Runner is a great store to check out both for the products they offer and the great events they host.
__________________________________________________