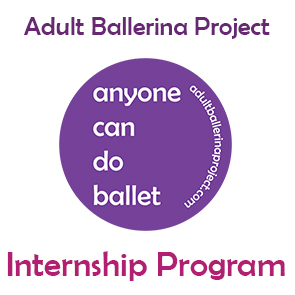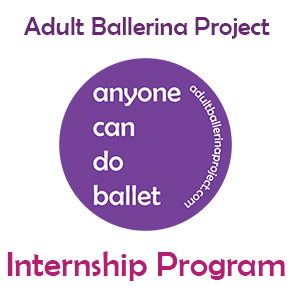 ABP is looking to offer a 10-week internship program (although possibly running longer for interested candidates) for two to three writers. I'm looking for people who have some experience with dance (but all levels are welcome) and are interested in blogging and journalistic writing (no experience necessary!).
Responsibilities include:
Pitching, researching and writing at least one article a week (how-tos, interviews, roundups).
Taking photos for articles or finding photos via Creative Commons or other stock services.
Creating social content for a variety of platforms (Facebook, Twitter, Pinterest, Instagram) for your own posts.
Reaching out to professionals, instructors and adult ballerinas for interviews.
Possible additional tasks (if interested):
Participating (and/or helping to host) 1-2 Twitter chats over the summer if interested in gaining social media experience.
Helping manage additional social media for Adult Ballerina Project.
Writing one or more "blog" style posts a month detailing personal dance experience.
Criteria to apply:
Dance experience (preferably ballet) of any level, from absolute beginner to experienced.
Experience with WordPress and Google Docs is a plus, but not necessary.
Open to undergraduate students, graduate students or recent college grads ages 18-26. All majors are welcome. (Those who are looking to contribute but are out of this age range should check out our contributors' page — we're actively looking for people who are interested in all of the above!)
What's in it for you:
writing, interviewing and social media experience
flexible, remote internship (perfect for combining with another job/internship)
possible college credit (depending on your college's requirements)
Please note this is an unpaid internship, and you should expect it to not fill up more than 4-5 hours a week. Currently, I expect to make posts due on a weekly basis by Fridays at 5 p.m. eastern time, although changes can be made depending on your schedule.
If interested, please email your resume, a writing sample, and a brief email explaining why you are interested in an internship (no cover letters please!) with ABP to aballerinaproject@gmail.com. Interns will be accepted on a rolling basis.