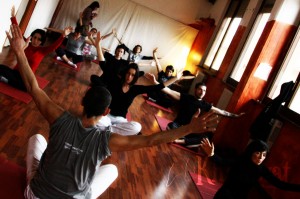 For the time being, I've given up on serious running. Not saying I won't still hop on the treadmill or the trail every once in awhile, but I've given up on the idea of running a half marathon or ten miler (there's a huge one in Philadelphia–the Broad Street Run). My legs seem to take forever to recover from it.
So now I'm on the hunt for additional ways to cross-train. I plan on using the elliptical machine every once in awhile, but I'm mostly trying to find DVDs and videos that I can do early in the morning (so no longer that 35-40 minutes is preferable).
Currently, I have a copy of an old Pilates for dummies DVD I really enjoy (plus, it's short at about 30 minutes), a copy of Ballet Beautiful, and some Barre3 DVDS (which I've pretty much never touched).
There's a couple more Pilates DVDs I've thought about checking out on Amazon, but for now, I'm looking for recommendations before I purchase anything else I won't actually end up doing.
What cross-training DVDs or YouTube videos are your favorite? I'll do a follow up post with what I end up liking!