This past week started off rough.
Sunday 8/11:  We ran about a mile last Sunday to get some of our favorite mac and cheese, but it was too hot out to do anymore than that. We stopped by the library on the way home and I picked up Apollo's Angels, a history of ballet.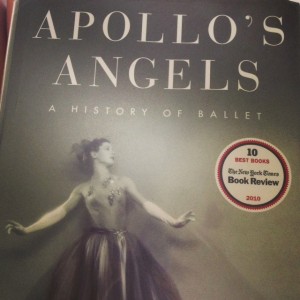 I did a 3o minute barre3 workout (HQ's birthday present to me) and a few hours later my left calf started nagging me.  I can't wait to share more about Apollo's Angels (once I read more) and Barre3 once I do a few more workouts–but so far, I'm in love with both!
Monday 8/12: We ran about a mile out the pier here (one of my favorite routes to do near our apartment) and both of us were having horrible shin/calf/knee pain. We ran about 3/4 of a mile back before eventually quitting and walking the rest of the way home. I decided to skip ballet.
Tuesday  8/13: I worked for a little in the morning and then we went to an awesome event about becoming an entrepreneur featuring a panel of young entrepreneurs in the city. You can read my recap here.
Wednesday 8/14: Got to pretend I was editor at work for a little and then got some more mac and cheese for lunch. Clearly, I have a mac and cheese problem.
Thursday 8/15: Finally got some more exercise into this week in the form of beginner ballet, which went really well. We then attempted to go to Night Market here in Philly but the lines were horrible and the tacos I wanted were gone by the time we got there. So we got Jim's Steaks instead.  This further proves that my life is pretty much the definition of #fatfluential. I exercise, but I eat pretty badly. My legs were also exhausted from ballet plus a ton of walking.
Friday 8/16: Family came down for a last minute so trip, so today meant lots of walking as well. Good news is, I'm now a member of the zoo and I can go whenever I want with up to two guests.
Saturday 8/17: Day of the horrible ballet class. I hate when I have a bad class, especially when my teacher can tell I had a bad class. My legs were just too tired. I went to pointe class for a little but the shoes came off roughly 5 minutes in, and 3 hours later I have a little bit of pain on the top of my foot (yes I realize, my feet are probably too weak).
Good news is, I'm staying on top of the squat challenge and got 80 squats in.
Sunday 8/18: Hellloooooo, rest day. Took it easy with some stretching (and catching up on Doctor Who).
I plan on taking the rest of the week depending on how I feel. Luckily, if I decided I need to take the week off, I'll be fairly busy with work and friends visiting to not go stir crazy.
How do you keep yourself from going stircrazy from an injury?
PS. I'm contemplating a name change, so let me know what you think. Run. Dance. Write. is what I'm debating right now.