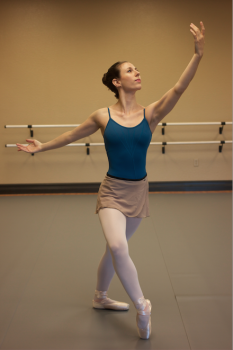 How long have you been dancing?
17 years.
Why do you dance ballet?
I dance ballet because it is good for the body and the soul. I love the movement and structure of taking daily ballet class. I've found that ballet requires both strength and fluidity. Ballet has become very personal, giving me a way to express my emotion.
Who/What inspires you to dance?

Both my family and nature inspire me to dance. My family has taught me to set goals with my dancing, as well as teaching. I live in Florida so I spend a lot of time outdoors near the water. I'll often replicate and integrate movement similar to the ocean waves into the classes that I teach.
How long have you taught ballet?

12 years.
Where do you teach ballet?

I teach at my own ballet academy, Christina Koinis Ballet LLC.
Who do you teach?

Ages 3 through adult seniors.
Why do you teach ballet?

I want to help each individual reach their own personal goals. I have a passion for sharing what I have learned with other people. There are dancers everywhere who have that spark inside of them, but need the right teacher to pull the ability and talent out.
What is your favorite ballet step to teach and why?
My favorite step is rond de jambe à terre (circular movement of the leg on the ground). This one step incorporates so many applicable lessons for body placement. I personally had a breakthrough in my understanding of technique when this step was explained accurately and I understood it. Now when I teach, I love seeing a student's expression as they begin to find their own turnout and body placement.
What advice/tips would you give to adults who want to begin ballet for the first time/adults starting ballet again?

Do not be afraid! I recommend finding the right teacher who has a good perspective on adult ballet students. We shouldn't compare ourselves to others. Every dancer has a starting place where they can work from and progress! I recommend getting a ballet notebook. From day one of your lessons write down vocabulary, class notes, and corrections.
Anything else to add?

Follow me here:
facebook.com/christinakoinisballet