Thank-you so much to everyone who commented on my post last week on FOMO with words of encouragement! I didn't make it to ballet on Thursday (I was sore and feeling sick), but eventually made it on Saturday again. I changed my schedule with my PT this morning so that I'll hopefully be able to go Monday and Friday and hopefully avoid being super sore again and be able to get back on track and not have to miss any ballet classes because everything hurts too much.
In other good news, I seem to finally have found arch supports for my sneakers/other shoes that finally seem to not slip around everywhere. I also wore elastic arch supports to ballet, and even though my arches were killing me (like they have been since my return to ballet) during the beginning of ballet, I feel like they're helping me to overpronate less. If they seem to continue to help, I'm looking at a couple of additional options for ballet shoe support:
MDM Adult "Intrinsic" Canvas Split-Sole Ballet Slipper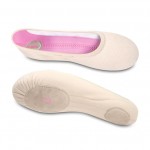 These look like they have really good arch support and have great reviews, and they're not too badly priced for an entire new set of slippers. Even though I just bought new shoes not too long ago, it wouldn't be terrible if it helped save me some pain and bulk in my shoes from elastic arch supports
Dr. Roth Arch Band Supports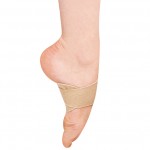 Although these are about the same price as the slippers, they're tempting because they could be worn with my current pair of slippers and pointe shoes (if I even ever wear pointe shoes again). They could even be worn around the house, in sneakers and with other shoes.
Do you have any experience with arch supports in ballet or tried one of these? Any recommendations for slippers with good arch support?