Finding time to blog is tough, but finding time to blog and post social media for that blog can be even tougher. That's why I first tried CoSchedule a few months ago, and honestly, I'm in love with it. Here's a quick video overview of what CoSchedule can do:
I started using CoSchedule a few months ago for Adult Ballerina Project and I also used it as part of my job, too.
What is CoSchedule?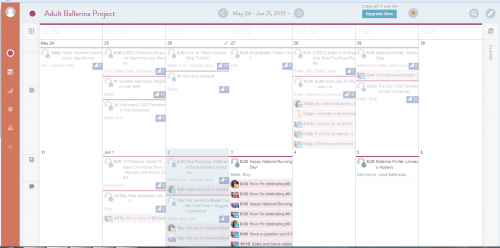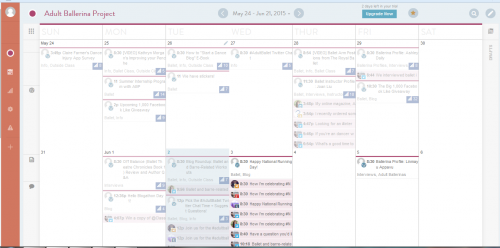 It is a drag-and-drop editorial calendar for WordPress that puts your blog posts and social media messages on the same schedule. It beats out the normal calendar provided in WordPress (and other calendar plugins) with the social media add-in. I love that CoSchedule has a "drag and drop" option so that if you want to quickly move a post from one day to another, you don't have to log in to WordPress and change the scheduled date/time. You can also move a scheduled post to drafts and a draft to the calendar.
Key Features:
Here's a list of other key features CoSchedule lists as including:
Drag-And-Drop Editorial Calendar
Schedule Social Media While You Blog
Save Time, Grow Traffic
Easily Re-Schedule Old Blog Content
Lightweight WordPress Plugin
Automated Social Publishing
Simple Team Communication
All-In-One Publishing Solution
No More WordPress Hacking
What platforms work with CoSchedule?
CoSchedule works with WordPress, Twitter, Facebook, LinkedIn, Buffer, and even Google+ Pages (using a to Buffer). One of my favorite was to use CoSchedule is to push posts to Buffer, so that I can re-arrange them using Buffer's built-in scheduling system (pre-set times set by you). It makes it super easy to rearrange the order of your posts and even remove things last-minute if you need to — like if you discovered an error in a post and don't want to share it again, but you're on the go and only have your phone.)
While CoSchedule has no mobile app at the moment (a downside) — if you push to Buffer, you can have access via their mobile app to edit and change things on the go!
Multiple Blogs and Users
I love that you can have multiple blogs (great if you run many of them) and multiple users. While I don't currently take advantage of these, I'm looking forward to using the multiple users functionality when my interns start. You can even set tasks for users (or yourself, for that matter — I often set tasks for myself so I remember certain things I want to include in social media posts in the future!)
See your top posts
I love that CoSchedule will tell you how often and on what platforms your posts get shared on. I also love that you can see what your top posts are, either over a specific time period or all time. Here's ABP's top posts of all time by social sharing: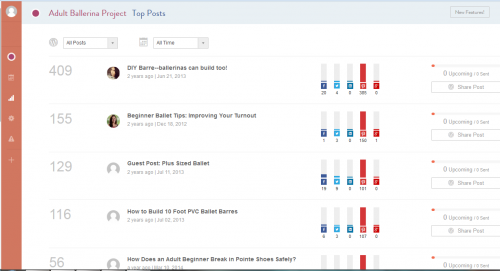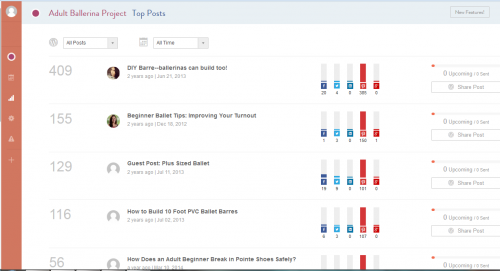 Other Integrations
I love that you can connect Bit.ly, Google Analytics, and Google calendar to CoSchedule, too! It makes it super easy to help track of how posts and social media is doing.
Test it Out!
If you want to test to see if you'll love CoSchedule as much as I do for all your blogging needs, CoSchedule offers a free trial.  You can also extend your trial for every social media account you link up to CoSchedule (which I did when testing it out!