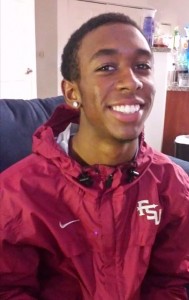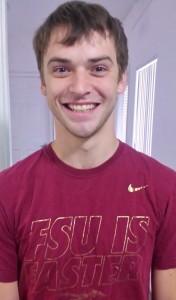 Danny Perez (left), Christopher Miller (right)
These guys can probably jump higher than your favorite basketball player and they can lift you over their head. They're not afraid to tell you they're ballet dancers.
Danny and Chris are full-time students at Santa Fe College in Gainesville, Florida. They take technique classes every day (on top of their academic classes), and they perform with the Dance Theatre of Santa Fe.
"There are days when we dance more than we sleep," says Chris. "When we're rehearsing for a show, it's like – wake up, dance, eat, dance, sleep, repeat. It's hard work, but it's so rewarding."
They were both recently accepted to the Bachelor of Fine Arts in Dance program at Florida State University.
So, what do you guys do with dance?
CM: I've done a lot of freelance work with companies in Tampa and Gainesville, and I'm always performing with DTSF [Dance Theatre of Sante Fe]. What I'd really like is to become an equity performer, or to have a contract with a company. Right now I'm working on finishing my degree at SF and then moving to Tallahassee to attend FSU.
DP: I have one more semester with Santa Fe before I start working on my BFA. Eventually, I want to do the same thing: company or equity performer. Really, it doesn't matter to me where I am or who I'm with as long as I get to keep dancing.
How is ballet different for men vs. women?
DP: Men are like a commodity in ballet because there aren't a lot of us. Teachers usually want to take advantage of the fact that we can partner so we sometimes wind up doing more than the girls.
CM: Our training is also a little different. There are some steps that are traditionally done only by women and some that are done only by men. Men are expected to jump higher, and we definitely need more upper-body strength because we need to be able to lift. Sometimes we get to take special men's classes just to focus on those areas.
What about the stigma of ballet being for girls?
DP: Honestly, when kids used to tease me for doing ballet, it motivated me. I used it as ammunition to work harder and get stronger. If you've ever taken a ballet class then you know it's not for wimps. Every single class, guys and girls are walking out drenched in sweat, and you're sore pretty much all the time. It only looks so easy because we work so hard to make it that way.
CM: And think about it, you're catching and lifting beautiful women over your head. Name something more manly than that.
What is it like being the minority in your field?
CM: It's awesome. Strong male dancers are always in demand and there's always an opportunity to partner someone. I love when there are a lot of guys in my class, though. You can make more interesting choreography when there is a big group of guys and girls.
DP: I think more is expected of us because we're so few. We have to be able to do what girls can do and we also have to be ready for anything. When someone is depending on you to lift them, they're trusting you with their career. It's a lot of focus.
What made you decide to make dance your career and not just a hobby?
CM: For me it was when I got to Santa Fe and saw all the different kinds of opportunities that are out there for dancers. I've always loved dancing and I knew I wanted to keep doing it as an adult, but I didn't really become set on finding a career until I met my teachers at SF.
DP: I've just always loved it, I don't know what flipped the switch. I feel good when I'm doing it and I learn about life from dance. I have a tattoo of this quote my brother made me, and it describes how I feel perfectly: "Dancing is the most exciting form of art. The stage is your canvas, your body is your brush, and your heart is your color."
Do you have any advice for guys who want to start ballet?
DP: Do it! Just find that thing that motivates you and use it to make yourself better. Focus on what you like about dancing and why you do it instead of what people might think of you. Then when you're doing awesome ballet stuff that most guys can't do, you know your passion is what got you there. And hey, girls love that drive.
CM: I say definitely try it if you think you'd enjoy it. I started when I was 10, an age where it was so uncool to be a ballet dancer, and I was surprised by how much I liked it. How I felt when I was dancing made me not care about anything outside the studio. Don't get intimidated by what people might think and you might find something you really like.