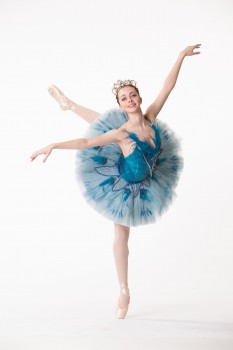 This week, I had the pleasure of interviewing Michaela King, corps de ballet member with Pittsburgh Ballet Theatre! At just nineteen years old, Michaela joined the company in 2014 and performed in Swan Lake, Don Quixote, La Bayadere, and George Balanchine's Serenade. Michaela is thrilled to begin her second year with PBT next month, and she looks forward to the upcoming performances!
Adult Ballerina Project: Tell me about your dance history!  What made you want to become a professional ballerina?
Michaela King: I was five years old when I first started dancing. My mom enrolled me in classes because she thought it would be a fun creative outlet. She never thought in a million years I would fall in love with it! I took ballet, tap, jazz, and I participated in commercial dance competitions. When I was ten years old, I switched to a studio where the main focus was ballet. I realized that if I wanted to continue to dance and make a career, this is what I needed to do. That's when I began to discover my real passion not only for dance, but specifically ballet.
A year later, I went on pointe and began to train intensely six days a week. Every summer, I went away from home to train at ballet schools around the country. After graduating from high school, I moved to be a student in the Graduate Program at Pittsburgh Ballet Theatre. I received my first company contract with PBT at the end of my two years of training there! It was a dream come true. This is what I had been working for my whole life. It is exciting to say that I get to do what I love every day.
ABP: What are your most memorable experiences throughout your career?
Michaela: Last season, I got to be the first shade out on the ramp for La Bayadere. That ballet is so special to me because it's the first professional ballet I saw. I was 11 years old when I got to watch American Ballet Theatre perform it. It's crazy to think that years later I got to be one of those girls going down the ramp doing 38 arabesques!
By far, my most memorable moment was being called into PBT director Terrence S. Orr's office at the end of my second year as a student with the school. He sat me down, we chatted, and he offered me a contract! I couldn't believe it, it's a moment I will always remember and treasure.
ABP: Have you experienced any challenges during your dance career?

Michaela: Last year, I sustained multiple injuries to the bones in my feet and I was out for six months and in recovery for another three months. It was by far the hardest and most trying time I've had to go through as a dancer, but it made me a stronger person and I learned so much about myself.  I feel like I am more aware of my body and how to take care of it, and more mature as a person. When life throws me curve balls at me I have the confidence now that I can get through anything because it's just temporary!
ABP: What is your focus for the upcoming season?
Michaela: Ultimately I want to have a long career and be the best possible dancer I can be. It will be my second year in the company so right now my goal is to make the most of every role and opportunity I'm given and put 100 percent into it. I want to prove myself and show my versatility as a dancer. I'm hoping to get cast in some roles out of my comfort zone so that I can push myself and grow in new ways. Ideally, it would be a dream to dance a lead pas de deux on stage.
ABP: What advice would you give to ballet students?
Michaela:
"You may be the ripest, juiciest peach, but there will always be someone who hates peaches." Stay true to yourself and do not worry or compare yourself to other people. I think that's what helped me to develop into my own as a dancer technically and artistically. Every dancer is unique in their own way and has their own path. Embrace it!
Image via Pittsburgh Ballet Theatre