Two problems that sometimes arise in ballet class are cold hands and wobbly freestanding barres. I found these two quick and easy knitting patterns that provide simple solutions.
Fingerless Mittens
With cold weather here, I see people layering on garments: leg warmers, rip stop ("trash bag") pants, wrap sweaters, and more. One day I saw a person wearing fingerless mittens and thought, how clever! Fingerless mittens keep your hands warm while allowing you to still feel (or in my case sometimes grip) the barre. This free pattern from Lion Brand Yarn called Highland Gauntlets is perfect. Scroll down for instructions.
If you want to cover your lower arms as well as you hands, just follow the pattern. If you want to shorten the gauntlets and just cover you hands and wrist, simply shorten the gauntlet potion of the pattern to you desired length. I altered the pattern a little to shorten the gauntlet into fingerless mittens.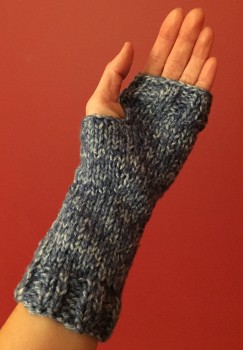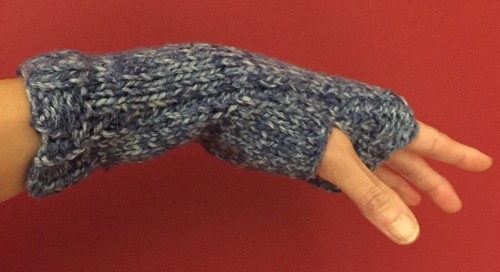 Freestanding Barre Leveler
Have you ever started class only to hold the barre and realize you unfortunately picked a wobbly one? The music has begun, the teacher has handed out combinations and it is too late to changes places … so you are stuck with a barre that moves every time you touch it. This barre is no help for balance and the sound it makes with every wobble is irritating/distracting. You could solve the problem by putting a towel under one of the barre's four feet, but you might want to use your towel. A piece of paper is usually too thin to be helpful. I've seen an old ballet shoe shoved under a barre, but who wants to use his or her own ballet slipper in case there isn't an extra one lying around the studio?
I've encountered plenty of shaky freestanding barres and finally decided to 1) test the barre for steadiness before class begins and 2) if needed, whip out my simple knit square to put under a foot of the wobbly barre. I used this simple pattern called "Not Your Average Washcloths" by Elizabeth Prusiewicz.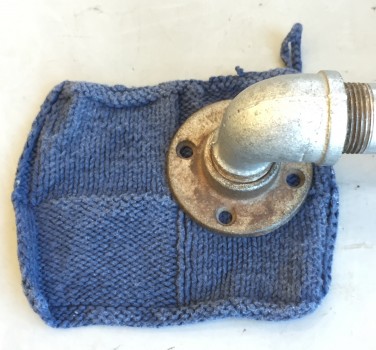 Of course you could use any small square pattern — think of it like a coaster for the barre. Find simple knitted square patterns here and here.
Now you're ready for the cold weather with warm hands on steady barres!