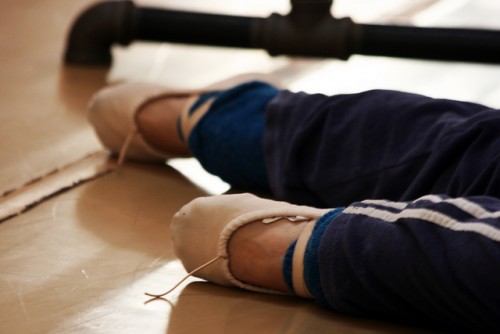 Fitting the right ballet shoe is somewhat like finding a brassière or the right shade of makeup: it's almost impossible to buy the right one unless you've tried plenty of them on. Even if you have a pair of shoes that you've worn before and that seem to work well, it's always a good idea to try on multiple pairs before deciding on one. There are always new and enhanced styles that might suit you better than your last pair, and you might just find a new favorite.
If you've never been professionally fitted before, trying to find your own pair can be overwhelming. Dancewear sizes are typically different from street clothing or shoe sizes and the numbers vary between companies and styles. Because all of this can make you crazy with confusion, here are some tips for making sense of the process:
1. If you're enrolled in a formal class, check with your instructor before you buy anything. They or the studio might have rules or preferences about footwear and you'll want to know what they find acceptable. They might even be able to recommend a specific brand or style that they think will fit your individual needs.
2. Consider the many, many style options. Soft shoes vary in more than just size – most companies make shoes in several colors, materials and sole types, and many of them incorporate fancy features like elastic or mesh arches. Here are the basic factors you should use to get started:
Material
Typically, soft shoes come in either leather or canvas. Both are perfectly suitable for regular practice, but they each offer different benefits.
Leather shoes provide a good grip on wood floors, but they might be too sticky for a vinyl Marley-style floor. This material will stretch and shape to your foot as you dance in them, so keep this in mind when you're sizing them. Leather shoes also tend to last longer than canvas.
Canvas shoes are usually better suited for vinyl floors as they may slip too easily on wood. There isn't much give in the fabric, so make sure the fit is perfect before you buy them. Canvas shoes are often shaped with more pleats than leather, which generally makes them able to accommodate wider feet. One great thing about this material is that there's practically no break-in period, so how they feel when you first buy them is how they'll feel until they wear out. Canvas can also be easily cleaned in the washer and set out to air dry – just be sure to avoid the dryer.
Color
The most common soft shoe colors are black and pink. There are also endless shades of pinks ranging from tan to bubblegum pink; the particular pink you choose typically depends on your preference, but you may want to check with your instructor to see if they have a particular preference (although generally, adult studios tend to be more relaxed about it).
Sole
Two basic sole types are full-sole and split-sole. For young beginners, teachers usually recommend a full-sole shoe because it offers more resistance and helps build arch strength early on. However, split-sole shoes are most commonly used by teens and adults as they tend to look nicer on the foot.
3. The sizing chart is a good guide for trying on your first pair, but don't trust it blindly. Try to avoid buying shoes online unless you are very familiar with the company's sizing or don't mind returning a few pairs. Like any other shoe, ballet shoe sizes vary from company to company and many of them are measured in inches or European sizing charts. So if you've never been fitted before, it's best to go to a dance supply store and try on the shoes in person. Most brands run 1-3 sizes smaller than street shoes, so use the company's sizing chart to tell you where to start.
4. Once you've found your size, stand in them and try out a few pliés and relevés. Your toes should have enough room to spread out flat on the floor. If your toes feel crunched now, imagine how they'll feel after a two-hour class! Point and flex your foot to make sure the heel doesn't slip off or cut into your skin. A great measure for shoe length is to pinch the fabric at the back of the heel where the seam is. The ideal fit will allow you to pinch a thumb-width section together when your foot is pointed, yet have no gathered fabric when your foot is flexed.
5. Pull the drawstring just tight enough so that there are no gaps at your arches. You'll probably want to tie a bow instead of a knot in case you need to adjust later. Remember to tuck the ends inside the shoe when you wear them for class.
Image via Flickr User Quinn Dombrowski