This week's profile is of Michelle, who contacted me a few weeks ago about doing a profile on her ballet friend Karen (who will be featured next Friday!). Michelle reminds us so much that you need to only compare yourself to yourself–not to any other dancers! It's amazing how much you've improved, even when you don't think you've come that far.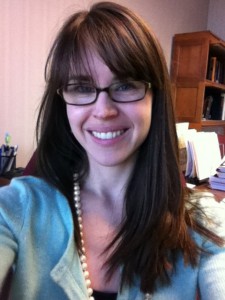 When did you start doing ballet as an adult?
 Michelle: January 2013 (33 years old)
Did you ever take lessons as a kid?
Michelle: Nope. I was interested, but I think my parents thought it was too expensive and my mother didn't want to hang out with the "dance moms." They did let me take gymnastics, tumbling, and cheerleading for a while. In college, I went swing and salsa dancing.
Why did you decide to take ballet as an adult?
Michelle: I was interested in taking barre fitness classes but balking at the expense. A co-worker suggested I take the "basics" workshops at her studio since it was mostly barre work. I took both 8-week sessions and became interested in ballet for its own sake (although it has been a great workout). And I'm now spending a lot more money per month than my old gym membership…oops!
 Michelle: School of Contemporary Ballet Dallas.
 What is your favorite part about ballet?
 Michelle:  The combination of mental and physical challenge. I love the routine of class and the fact that no one is really paying attention to anyone but themselves. It's been a very restorative activity for me during the last year after some rough spots in my personal life. Also, learning ballet is the opposite of being a tax lawyer (which is what I do for a living).
What is your least favorite part?
Michelle: Getting discouraged that its a lot harder for me to pick up new physical skills in the my 30s. My goal for the summer was to be able to do a single pirouette, and I'm don't think I'm going to make it. I am getting closer though!! Also, my "old" brain has a hard time remembering the combinations (but that's getting a little better too).
 Who/What is your ballet inspiration?
Michelle: Really, all the people I've met at the studio. I really enjoy that the students are of all ages and levels and taking a couple of hours to do something they enjoy. I have a "ballet friend" that I met in the basics workshops and its fun to have someone to discuss class and our frustrations and accomplishments with (because no one else is interested – ha!) The teachers as well. After taking a few classes at other studios, I can safely say that classes of all levels at CBD are tough!! But the teachers are always very encouraging, even when it must be frustrating (and hilarious).
What motivates you to keep dancing?
 Michelle: Getting out of the house! Ballet has become my "mommy time" activity and it gets me moving instead of collapsing onto the couch as soon as my kid goes to bed.
 Do you take any other dance classes?
 Michelle: I have taken a few modern classes and really enjoyed it. I'd definitely like to explore other styles, but am limited in how many classes I can get to in a week.
 What are your hobbies outside of ballet?
Cooking, Gardening, Book Club, and Toddler Wrangling.
What advice would you like to give to those who want to start ballet or have just started?
Michelle: Stick it out when you get frustrated and only compare yourself to yourself!! I try to remember that even though I'm still terrible, I'm less terrible than 8 months ago (or even 1 month ago).
 Anything else you'd like to add?
 Michelle: Thanks for the inspiring and interesting blog.