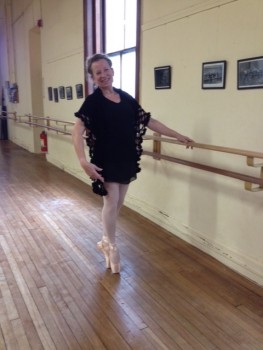 When did you start doing ballet as an adult?
8 years old?
Did you ever take lessons as a kid?
Yes, but I drifted off to other things as many teenagers do, going back to classes for a few months at a time,
Why did you decide to take ballet as an adult?
As a way to feel at-home returning to college as a young adult, I always took class, first at a 2 year SUNY school in NY state taking dance composition, ballet and modern, and then at 4 years colleges, always minored, so to speak in dance.
When I first moved to Massachusetts to attend a 4 year college, I attended a very nontraditional 4 year college and my majors were Political Science and Dance!  Only in the Pioneer Valley of western MA could you do that! It is called the 5-Colleges area- Mt. Holyoke, Smith, (all female), Umass Amherst, Amherst College and Hampshire. Once you are registered at one, you can take pretty much all your other classes at any one of the other 5 colleges.
This allowed me to experience many different dance forms including African (to age myself, we danced to "Free Nelson Mandela"), modern including Labanotation and a smattering of kinesiology, at Hampshire, ballet at Mt. Holyoke, Improvisational at Smith.
Where do you take classes?
After turning 40, I attended a really great local studio called Ballet Soleil in Williamsburg, MA owned by Kelly Torza who studied at Northern Connecticut Ballet, Walnut Hill School for the Arts, Greater Hartford Academy for Performing Arts and Hartford Ballet.  After high school she attended the Hartford Camerata Conservatory receiving certification in dance pedagogy and instruction.
I currently attend Massachusetts Academy of Ballet in Holyoke, Northeastern School of dance under Antony De Vecchi, Artistic Director and Ballet Master who danced with the ABT.  He also appeared in 12 Broadway shows and in the national tour of "Man of La Mancha" which he  directed and choreographed. Nominated for Emmy Award for his work with A Winter's Tale for WNDT (New York) as well as recipient of the Dance Critics Circle Award for the best Broadway musical on tour.  He has partnered such names as Alicia Markova, Juliet Prowse and Chita Rivera.
When I can deal with the traffic across the CT River, I attend Amherst Ballet, under  Executive Director and Teacher Sueann Townsend who has performed in many places across the U.S. and Europe.
The Massachusetts Academy of Ballet in Holyoke is a wonderful school, founders and directors, Rose and Charles Flachs are active with and committed to, the community and have expanded adult classes in the last few years.
What is your favorite part about ballet?
The traditional continuity, challenge and feeling like you are part of a world-wide group.
While I never attained professional status, it is an artistic, grounding and physically satisfying activity.
What is your least favorite part?
At my age it is very hard for me to look at myself in the mirrors- I never wear leotards- just supportive tanks, briefs, cut-off tights and a top. Getting to class can be difficult- the closest studio still takes a 35-minute drive then a walk up to 4th floor. I have work, kids, an elderly mom and other commitments that I constantly have to juggle.
Who/What is your ballet inspiration?
Dame Margot Fonteyn, Misty Copeland, Martha Graham, Fred Astaire (his talent and skill will never be matched), Gene Kelly and of course, Mikhail. Like many female ballet dancers, the characters in the Red Shoes, Turning Point and now the Black Swan, although I view that as more of a physiological thriller.
What motivates you to keep dancing?
Fills creative need, fitness, and social connections with like-aged fellow dancers.  We are also dedicated to supporting each other in dance and life.
(get's me out of the house!)
Do you take any other dance classes?
Infrequent master classes that come up in Pioneer Valley and sometimes NYC such as Finis Jung.
What are your hobbies outside of ballet?
Medical research and public health/writing, reading (everything!) baking, designing and selling decorated cookies and going to Maine to our land on a lake for physical and emotional healing.
What advice would you like to give to those who want to start ballet or have just started?
Find a studio that is dedicated to nurturing the adult dancer.  There are more and more adult-only studios opening.  It is important that the teacher can design the class to meet all levels. You will find much support there!
Do you have a blog?
No, but I have new biz making decorated cookies- including ballet themes!