My favorite granola brand, Gatherer's Granola, is nearly halfway through their Kickstarter Campaign to raise money in order to fund their new gluten free granola line. I first fell in love with their Fox's Fancy flavor–made with apples, spices, and honey when I tried some at my grandma's house over Christmas in some vanilla yogurt.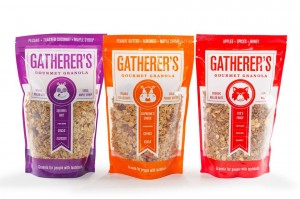 Ever since I was little, I've been eating yogurt and as I've mentioned, it was the one thing I refused to give up while attempting to go VB6. I've been adding granola for some added crunch ever since high school, but it's always just been that–for crunch, not flavor. Even the granola I picked up from Whole Foods didn't offer a whole lot of extra flavor. Gatherer's Granola's Fox's Fancy, on the other hand, adds a delicious cinnamon and apple flavor to my vanilla yogurt and eliminates a need for me to add extra honey.
So I got excited when I heard they were running a Kickstarter Campaign so they could create a gluten-free line, especially given that I'm beginning to wonder if I have a very mild gluten allergy myself. Check out their video:
So I talked Nate Giroux, Director of Sales,  to learn more about their Kickstarter Campaign and how you can help Gatherer's Granola reach their goal:
What makes Gatherer's Granola unique?
Nate Giroux: Gatherer's is unique in its firm commitment to taste and quality. Our slogan says it all… "Granola for people with tastebuds." Generally, when people think about granola, they think "healthy snack" – a notion that is too often disconnected from thinking something is "delicious." While our granola is definitely a healthy snack, part of our mission at Gatherer's is to advance the public perception of health food. We want our customers to think of our granola as yummy, first, and healthy, second. We use only the highest quality ingredients and very careful baking processes to realize that goal.
Why have you decided to make gluten-free granola?
Nate Giroux: Over the past few years, gluten intolerance has emerged as a common health concern, and in many cases can have a profound effect on someone's diet. In response, many vendors in the food industry – including major granola makers – have introduced gluten-free options to consumers. Unfortunately, it can be very expensive to make gluten-free "versions" of food taste as good as the original, so customers with gluten intolerances end up taking a back seat when it comes to flavor. Gatherer's Granola aims to change that. We have designed three gluten-free flavors to add to our current line of gourmet granola – all of them delicious, and using high quality ingredients including: locally sourced artisan honey, some of the world's finest dark chocolate, pistachios, orange blossom, dried cranberries, and walnuts. You can have my wallet if you find any granola – gluten-free or not – that tastes as good as our new flavors.
What made your team decide to use Kickstarter?
Nate Giroux: Gatherer's Granola started out as a family business at our president's local farmer's market in Delmar, NY. We continue to appear at local farmer's markets every week, and although we now have a full bakery and retail locations in 11 states, we still think of Gatherer's as a family and include our customers as part of that family. In fact, our customers are the reason we're making gluten-free granola – they asked, and we're listening – but we can't do it alone. Kickstarter has allowed us the opportunity to involve the public in our mission to design and produce granola that is not only gluten-free, but that also has gourmet flavor.
What are some things people will receive if they donate?
Nate Giroux: We have some truly stellar incentives for people that donate to our campaign. In addition to the awesome feeling that comes with helping a small business do something revolutionary, our donors can look forward to advance samples of our new flavors, Gatherer's swag (t-shirts, ball caps, aprons, and more!), tickets to our launch party for the new flavors, monthly subscriptions of granola delivered right to your doorstep, and more. We've even created an option to design your own flavor of granola, meticulously prepared by Gatherer's (we'll send you a whole case of it). Two lucky backers will indulge in an all-inclusive weekend for two at the Essex Culinary Resort & Spa, including cooking classes with world-renowned chefs, gourmet meals, and spa treatment.
When will the new line be available?
Nate Giroux: With the success of our Kickstarter campaign, our new flavors will hit shelves by October, 2013.
Anything else you'd like to add?
Nate Giroux: If we don't reach our goal of $15,000 by August 9th, we don't get funded, so hurry up and reserve your swag now before it's too late! Thank you!
Don't miss out on your chance to help support Gatherer's Granola out–many of the rewards include some of their awesome granola! You can also find them on Facebook and Twitter. You can donate to help create their gluten free granola line via Kickstarter.

—
While Nate Giroux is my cousin, I've written this post because I truly enjoy their product and wanted to help them out. I received no monetary compensation for this post. All thoughts and opinions are my own.