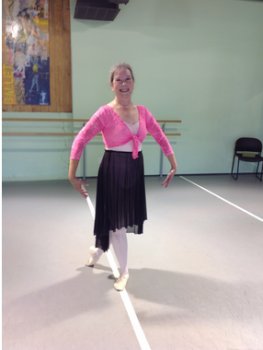 Profiles are back! We're kicking off this week with a profile of Dr. Karen Lambie. Want to be profiled? Fill out
this form
.
When did you start doing ballet as an adult?
I started taking ballet about 2 years ago after a 30+ year absence.
Did you ever take lessons as a kid?
I did take lessons as a kid from the age of 4 to the age of 8. I started classes again when I was in my 20's.
Why did you decide to take ballet as an adult?
I decided to take classes as a 61 year old ( I am now 63) because I loved it so much when I was younger and felt I needed the exercise.  
Where do you take classes?
I take classes right here in my small town of Statesboro, GA.
What is your favorite part about ballet?
It is difficult to say what is my favorite part of ballet, but I have always loved being able to express the emotions I feel from music through the beauty of dance, especially ballet.
What is your least favorite part?
I suppose my least favorite part is wanting so badly to be able to execute a particular move and not being able to due to the level of difficulty.
Who/What is your ballet inspiration?
I get my inspiration simply from the beauty of the art of ballet. Some of the most inspirational ballerinas for me include Gelsey Kirkland, Sylvie Guillem, Margot Fonteyn and Svetlana Zakharova.
What motivates you to keep dancing?
What motivates me to continue is the feeling that runs through my entire body when I am dancing–I feel as though I am flying! No other kind of dance makes me feel like ballet and I believe that a good barre and center workout is about the best exercise there is!
Do you take any other dance classes?
Occasionally I go to a modern dance or jazz class.
What are your hobbies outside of ballet?
My hobbies include reading, making jewelry and I love playing around with drums.
What advice would you like to give to those who want to start ballet or have just started?
What I would say to anyone starting ballet or who wants to start is that it is not an easy discipline. It is very challenging, however, it is one of the most rewarding and fulfilling endeavors ever! It can be extremely frustrating at times, but most of the time, you will have a wonderful sense of accomplishment at the end of a class or performance, so don't give up! Let yourself go as far as you can! Even at the age of 63, I am still improving!
Anything else you'd like to add?
Additional information about myself: I am a retired teacher with 32 years of experience. I am a foster parent. I have become a public speaker concerning the fast growing crime of human trafficking. You may visit my Facebook page at
facebook.com
/Karen.AmbassadorOfHope. Thank you.