Ever since I ended up with stress fractures in both of my legs (and given that I have pretty bad ankles, too) — I've been addicted to wearing legwarmers when in the studio. Even if it's a humid 95 degrees out in Philadelphia. I'm always on the hunt for pretty legwarmers (it's so easy to get sick of your standard black) and jumped at the chance to try the The Dancewear Project's Striped Ombre Legwarmers: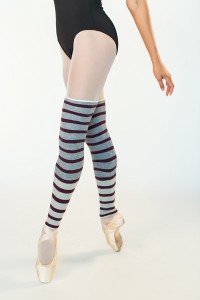 A photo from The Dancewear Project's website
I first came across The Dancewear Project because they launched a leotard line with Ballet Zaida (which if you're not following on Instagram you should be). So I reached out to Melissa at The Dancewear Project and she kindly offered to let me try a pair for free! And I fell in love with them.
Since I have fairly big thighs, sometimes finding legwarmers that can go up to them and not restrict them can be tough — that's why I was so happy to pull out Dancewear Project's legwarmers and find out that they were super stretchy and super cute (I seriously love all things striped — and that's the only downside to these legwarmers to me — is making sure I'm not clashing with a striped top when I pack my dance bag!)
The legwarmers are warm, but breathable, and look cute, too. I love them for my classes that I take in slippers — they can be pulled down over your ankles to keep them warm at barre but then quickly pushed up for across the floor work. I think I've only worn them once for pointe class, but I liked them for that class as well since they could be both pulled down over my ankles and rolled up quickly. They wash nicely, too, and will definitely remain something I keep wearing year-round, and I'll probably pick up a second pair, too (the pink ones are adorable, too). Here's some of my photos from after class (I'll add some more once I get the chance to take pointe shoe photos, too):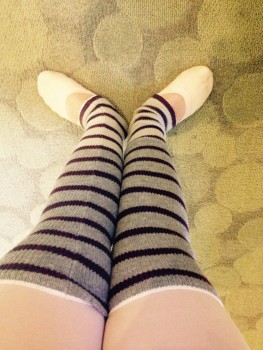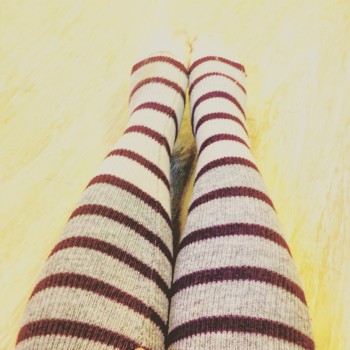 I can't wait to try out the rest of The Dancewear Project's line, too! If you'd like to, you can use the code adultballerina at checkout for 20 percent off!