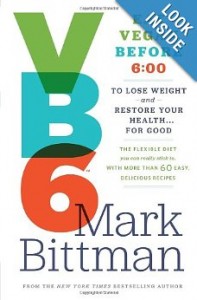 Last week, I stumbled upon Mark Bittman's Vegan Before Six book/diet plan on Twitter, and thought it sounded like the perfect plan to get me eating better. Although I haven't been able to get a hold of a copy of VB6 yet, the plan is pretty simple. Eat vegan and mostly unprocessed before 6, and then eat mostly normally, in moderation, after 6. I'll be trying to eat healthier, although probably not vegan, dinners.
I've tried to cut back lately (and I'm so inspired by all the ladies I talked to about their clean eating), but it's been a mostly failing effort. My biggest weakness seems to be mac and cheese and other forms of pasta.
I'll be making a few slight changes to this meal plan, since I can't seem to part with yogurt (I love Chobani, and I think otherwise I'd struggle with finding good sources of protein given that I'm a pretty picky eater). It's also the reason I've dubbed this the diet of my childhood. I refused to eat cheese (except for the occasional pizza–go figure)  and cream cheese and many other processed foods until my senior year of high school. I also weighed about 100 pounds as a result (although that's not my goal here, I just want to develop a healthier lifestyle).
While I've done a lot of meal prepping and shopping for breakfast and lunch ideas (lots of fruits and veggies), I've yet to figure out what a lot of my dinner meals will be. I'm planning on attempting this avocado pasta sauce recipe with some whole wheat pasta tonight, but after that, I'll probably be trying different combinations of stir frys and other healthy recipes. I've you've got healthy dinner ideas, feel free to send them this way so I don't fall into a pasta rut again!
How do you figure out new and exciting healthy meals to eat?
—
In other news, I will finally be heading back to ballet either tonight (probably not because I'm having some lower right calf pain, again, ugh) or Thursday. I really want to go tonight, but since it's the advance class, I'm thinking it's probably best to just chill out and not push it, but I'll probably throw on some Kinesio tape and see how today goes.