Ida Cathrine Holme Nielsen runs her own blog on personal style and ballet, which goes surprisingly well together called Wardrobe Philosophy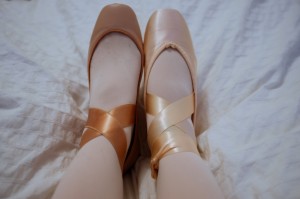 . Make sure you check out her blog and her profile below!
When did you start doing ballet as an adult?
I started taking classes at 23.
Did you ever take lessons as a kid?
Yes, I was very serious about my ballet training until I was 18 and was injured with a stubborn case of tendonitis which forced me to take a five year long break from ballet.
Why did you decide to take ballet as an adult?
I decided to go back to ballet because I realized that it is the perfect work out for me. It suits my body type and aesthetic taste and it even reflects my fashion taste quite well.
Where do you take classes?
In Copenhagen, Denmark.
What is your favorite part about ballet?
My favorite part about ballet is that it gives you a place in kind of an 'elegant cult', and you'll feel absolutely great about yourself while dancing, it also really helps your posture and how you carry yourself. I am also totally up for the amazing leotard wardrobe , pointe shoes and accessories that goes with!
What is your least favorite part?
My least favorite part are the days when nothing seems to work and your balance is completely off no matter what you do.
Who/What is your ballet inspiration?
My ballet inspirations are Evgenia Obraztsova and Marianela Nunez. They are about my height and does an amazing job with what they've got!
What motivates you to keep dancing?
I hate to say the perks of being in pointe shoes, but it is definitely a wonderful feeling!
Do you take any other dance classes?
Not currently, but I'm thinking of taking one or two contemporary classes a week next season.
What are your hobbies outside of ballet?
I love film and I'm a huge collector of vintage and antique clothing!
What advice would you like to give to those who want to start ballet or have just started?
Don't give up! I know it seems like everyone is better than you and your body does not respond well in the beginning and you feel like the lowest of the low in class, but it will pass and the day you feel you are the one to watch in certain exercises is totally worth it!
Anything else you'd like to add?
Once you've started ballet it almost gets to be a lifestyle. It comes to influence so many aspects of your life in a good way!