It's been a pretty busy week here. So when I saw that Emily from Fit and Free Emily was participating in Thinking out Loud I knew it'd be a great way for me to get some of my thoughts out, since I've been so busy.
1. Ballet is Cancelled for tonight. Dammit, snow.
Once again, Philadelphia is getting pummeled by snow, and I'll be missing ballet for another week. Somebody try to make me go on Saturday, please.
2. At least I get to participate in an awesome Tweetchat!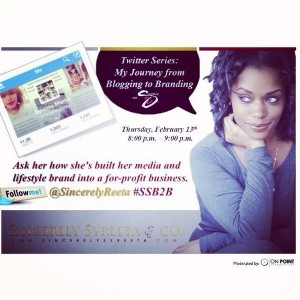 Sincerely Syreeta, a blogger I greatly admire here in Philadelphia, will be holding an awesome chat on her journey from blogging to branding. Go follow @SincerelyReeta for her Twitter Series: My Journey from Blogging to Branding #SSB2B at 8pm tonight!
3. An Awesome Editing Tool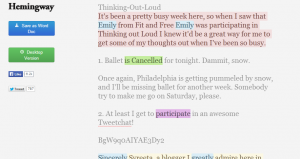 I've always been a big fan of Hemingway's short, concise sentences. I love this web app that tells you when your sentences are too long, when you've included too many adverbs,  and when you've used passive voice.
4. Yay for Spring Races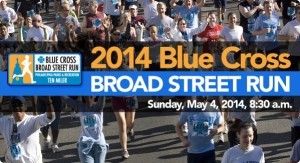 I'm (almost) officially signed up for two spring races: the Hot Chocolate 5k and the Broad Street Run. HQ and I still have to make it past the lottery phase for BSR, but fingers crossed!
5. Cheap Valentines Day Ideas, Anyone?
Since my gift to HQ was technically the BSR registration (if we get in)–I'm in need of something super cheap and simple, but CUTE. Here's to being a broke recent grad.
__________________________________________________