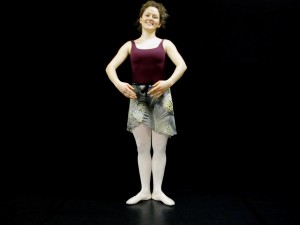 I wanted to share a ballet skirt I made, inspired by all the wonderful printed skirts I see on professional Ballerinas. This was a fairly easy project, I'm by no means an advanced seamstress, but it does involve a sewing machine. The skirt is pretty one size fits all, but you could always add, or subtract depending on your measurements or desired fit. For a bit of background, I'm a US side 6, and my model in the photos is a US 4. 
You will need:
1.25 Metres polyester chiffon (you can use silk as well, but you will need to hem it by hand)
3 Metres of 2-3cm ribbon
Thread
Scissors
Sewing Machine
Pins
Candle
1. Draft your pattern. I used an old ballet skirt to draft a rough pattern on some wrapping paper I had lying around. You can easily follow my pattern, just draw out the waist measurement and work from there. I also always draw the right side of the pattern, mark the centre line, and then fold to make the left (think of it like making a construction paper heart) to give completely symmetrical results. You can play around with the shape as well. Lengthening the back (the dotted line) will make it longer in the back, and shortening it to the same length as the front will give an even line all the way around. Also make sure to try on your pattern before cutting, that way you can make any adjustments before cutting the fabric.
2. Lay your pattern on the fabric as shown, by cutting on the diagonal (as shown) you are making it bias cut, which gives it that super great drape. Pin in the corners, bottom and top. Carefully cut around the pattern.
3. Take your ribbon and find the middle point and mark with a pin. Find the middle point of your skirt, mark with a pin. Match the two middle points, and fold the ribbon evenly over the top of the skirt and pin in place. Work in both directions, making sure that the top of the skirt is sealed in the ribbon, and pinned securely.
4. Sew along the bottom edge of the ribbon; I used a zigzag stitch, and backstitched at both edges.
5. At this point your skirt is pretty much done, but you still have that pesky bottom hem to deal with. You can painstakingly hand stitch a rolled hem, but I opted for the easy out and burned it. Because it is synthetic chiffon, it basically just melts, preventing it from fraying. I've heard a wood burning tool works great for this, but I don't have one, so I just lit a candle and carefully held the edge near it, not in it, and waited for it melt before moving on to the next section. I also tested it first on a piece of scrap fabrics, because different fibres respond differently. If the burning technique doesn't work, you could also buy some of the fray stop products available at any craft store.
So there you go, any easy Saturday afternoon adult ballet project!
Visit Nicola's blog here.
__________________________________________________