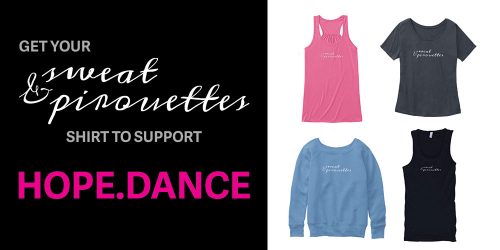 Ballet saved me. Dance was medicine when nothing else was working.
I took my first ballet class since childhood on February 16, 2015 and I haven't stopped since. I'm quite the unlikely ballerina – I'm a bit curvy and I suffer from a rare, progressive and incurable pain disorder called Complex Regional Pain Syndrome. It causes constant, intense pain even from a gentle breeze or soft fabric. The treatments I underwent caused my left leg to feel heavier and not feel the floor.
Ballet gave me the opportunity to start taking my body back. The building of the movements throughout class, the repetition of exercises on each side allowed me to relearn how to engage the muscles on the left side of my body. The stronger I got, the less secondary pain I had started to go away. I was able to walk and get through my day with more confidence.
I want to help others who suffer from pain disorders find this strength and freedom, so I am starting an organization to do just that. Hope.Dance will be focused on creating dance classes rooted in traditional dance forms like ballet and tap for pain sufferers. Using a model similar to the English National Ballet's Parkinson's classes, I want to create classes that are welcoming and beneficial. A place where the pain can melt away and no one feels like a burden on the rest of the class or be afraid if there are movements they can't do.
To get started and before I can start fundraising, I need to create the legal entity for the organization (legal fees, state fees). I'm selling shirts to help cover these costs and maybe even help rent a studio for my first class.  If you don't want a shirt, I have also set up a GoFundMe page.
The goal is to sell 100 shirts. If I hit that goal, I will raffle off a custom-made ballet skirt to one of the people who either bought a shirt or shared the campaign on social media. To enter the giveaway, send your order number or a screenshot of your social media share to hello@maryfranwiley.com with the subject "Sweat and Pirouettes Raffle."