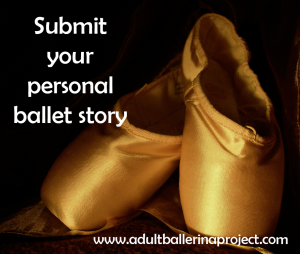 We're now piloting a new feature here at Adult Ballerina Project –you can now submit your own personal ballet stories directly to ABP to be published!
At ABP, we frequently like to feature writing by others about their triumphs as well as struggles in ballet, including  personal stories, too! We also welcome guest articles, interviews, how-tos, and more!
You can submit using the form below, or e-mail guest post ideas or articles to aballerinaproject@gmail.com. I look forward to reading your ideas and submissions!
Image modified with Creative Commons License, Source Flickr User LMAP
__________________________________________________