This week's profile is on Jackie of A Dancer's Fairytale, make sure you check her blog out! She started ballet in June after this year because the national dance company she works for inspired her!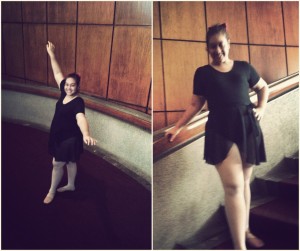 —
When did you start doing ballet as an adult?
I started on June 15 this year!
Did you ever take lessons as a kid?
Yes I started at 3 years old and did dance until I was 15 years old. Dance was everything to me when I was a kid.
Why did you decide to take ballet as an adult?
I work at a national ballet company and I was inspired by seeing the ballerinas and dancers every day. I was kind of jealous so I started again. I also wanted to start again because I put on a lot of weight and I wanted to lose it and feel good about myself again.
Where do you take classes?
I take class at CCP Dance School which is the dance school of Ballet Philippines. So besides the company they have a connecting dance school.
What is your favorite part about ballet?
The performance. Isn't that what dancers live for anyway? For me it is the costumes and the thrill of being on stage and dancing. I have to be on stage a lot for my major but dancing on stage is so much different for me. I just love the preparation and the hard work you put into your dancing to get to that final performance.
What is your least favorite part?
The least favorite part for me is getting frustrated when I can't do a step or I work so hard on a step and still can't do it. That for me is the worst. I feel like sometimes I expect too much and when I have a hard time doing something I will get so mad at ballet but I guess that is part of the dedication and I think I am perfectionist which makes it even more difficult for me. Also a silly thing is when I cannot pronounce the step. I am studying French so I am trying to perfect it so I can say the steps better.
Who/What is your ballet inspiration?
Who inspires me would have to be my dad. Since I started again he has been putting up with my ballet talk ever since I started working for the company and he helped me decided to start back up again. Sometimes he says I have "ballet brain" and encourages me and not let me worry and lets me stay positive. Another thing that is an inspiration to me is myself. I try and motivate myself to do ballet because it is such a passion of mine. Seeing professional dancers every day also adds to that but if I believe I can they nothing can stop me.
What motivates you to keep dancing?
Besides the company dancers, I would say the break I had. I regretted taking 5 years off which you would think is not really a long time but to me it was like forever. I pretty much try to motivate myself so I could do what I always dreamed of doing which is becoming a dance teacher.
Do you take any other dance classes?
Not right now because I am in the last year of college but after I graduate I plan on starting and teaching tap at the dance school I take classes at.
What are your hobbies outside of ballet?
I write. I love writing novels and making stories in my head. I am taking up a communication course as my major so I get to write often. Another hobby I love to do is read I guess but that's kind of similar to writing because you need to read if you want to get inspiration for writing. Other than dancing I don't have much of a hobby.
What advice would you like to give to those who want to start ballet or have just started?
My advice would be to start ballet if it is your dream. Don't be scared because someone will judge you. I was afraid to start again but I did it and I love being back. If you think you want to start don't let anything hold you back because the regret will eat you up. Just have fun and everything will follow because in the end it is always worth it!
Anything else you'd like to add?
Thank you for letting me do this interview. I really enjoyed doing it and answering it. I wish everyone luck in their adventures of dancing!