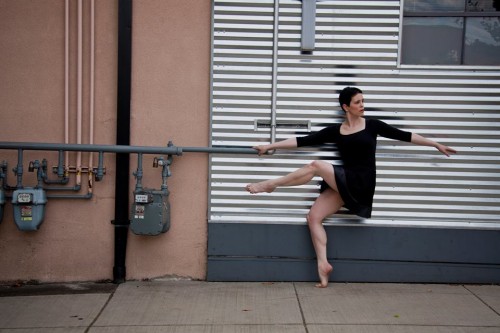 How long have you been dancing?
About 30 years.
Why do you dance ballet?
Ballet is where I began my training, and I continue to find new ways to improve my technique all the time. Doing ballet helps my focus and I especially enjoy taking class myself, as after a great ballet class, I feel like my mind and body get centered again…
Who/What inspires you to dance?
My students (of all ages) inspire me. I find that hearing a beautiful piece of music will give me instant inspiration to dance and create as well. When I am feeling emotions deeply, I am inspired to dance.
How long have you taught ballet?
I have been teaching ballet for about 20 years.
Where do you teach ballet?
I teach at my own dance studio as well as in various other studios in Vancouver, WA and Portland, OR. I also am a teaching artist in local public schools, though I focus my teaching more in Modern dance and dance for musical theater in those venues.
Who do you teach?
I teach students of all ages (from 2 to adult-including active Seniors).
What other types of dance do you teach (if any)?
I teach Modern dance (based in Graham technique primarily), Improvisation (including Contact Improv), dance for Musical Theater (mostly classic Jazz styles) as well as West African Dance.
Why do you teach ballet?
I love to see students make connections from class to class as they gradually master ballet. I like to encourage students who maybe think that ballet won't be as enjoyable as other dance forms to give it a try and see them become inspired to continue their training.
What is your favorite ballet step to teach and why?
Pirouettes–actually turns of all kinds. Throughout my own training, working on turns has been a constant challenge, and I love to help students discover what they need to do to be successful with pirouettes. I find that for myself as a student, if I have a good turning day, it's a great class, and if my turns are "off" it really influences how I feel about dance class…helping my students have a good turning day is a great feeling.
What advice/tips would you give to adults who want to begin ballet for the first time/adults starting ballet again?
I would say go for it and let them know that just having the courage to start (or return to) class is a huge success. Taking ballet is a chance to really focus the body and mind, it's a fun experience with other adults (we have so much fun in our adult classes) and it's really an accomplishment to dedicate time and effort to something that requires so much discipline. Ask questions, love the amazing thing that your body can do and let yourself enjoy dance class.
__________________________________________________