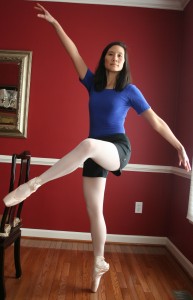 Being approved to go en pointe was a dream come true – clichéd but true! With a daughter en pointe, I had an idea of what to expect in a fitting, but only as an observer; I had no idea how the process would actually feel. Despite my excitement, I didn't immediately rush to the dance store and camp outside like a concert groupie pining for the box office to open (pre-Internet) or an Apple product fanatic ready to storm the doors in order snag the latest iProduct.
Instead, I emailed Joy Ellis, owner of Footlights and fitter for my daughter and her ballet classmates for years, to see when she would available to fit me. I planned to go Footlights in the middle of a school day and workday to avoid other customers–of any age but especially young ones :). The fewer witnesses to my fitting, the better.
On the big day, Joy immediately put me at ease as we sat down and chatted about non-ballet topics like our kids, good books, and the weather. I joked that at 44, I was probably the oldest person she had ever fit for pointe shoes. Joy smiled, "No, just last week I fit a dancer in her 70's." Oh, well that sounded encouraging. I kept babbling nervously to procrastinate until Joy said "Okay, let's get started." She carefully studied both of my feet, noting their shape, size, and narrowness before selecting the first pair of pointe shoes for me to try on.
The first pair was Gaynor Mindens, which I thought were for advanced and professional dancers – but what did I know? They felt like narrow wooden boxes on my feet but: 1) I didn't know what pointe shoes were supposed to feel like and 2) probably any pointe shoes would have felt that way to my virgin feet. I waddled to the barre and stood in first position. I knew what was coming next. "Okay, releve!" Joy said. I stared back at her but didn't move. She gently prodded, "Come on, up, you can do it." Bizarre scenarios crossed my mind: what if my feet broke … or I damaged the dance floor … or I fell over like Mary Katherine Gallagher (Saturday Night Live hyper-klutzy Catholic school girl from the 90's) … or crashed into the mirror … or pulled down the barre?
Taking a deep breath, I plied and rolled up. I thought, wow — I am up high. Then whoa – getting completely over the box is difficult … and ouch — my toes hurt! Uh-oh, maybe this is not such a good idea. Maybe I can't do this. I looked at my feet in the mirror – sadly, they looked like short stilts. Of course I was not expecting beautifully arched feet, especially as a complete neophyte in unbroken-in shoes, but my stick-like feet were a bit disappointing. Joy checked heels and asked me to describe what I felt (since I couldn't judge how I felt — as in good or bad — since I did not know what was supposed to feel correct or not). She didn't particularly like how the Gaynor Mindens looked on my feet and suggested other pairs. We worked through several different brands, models and sizes so she could eliminate obviously poorly fitting shoes and narrow down the selection to hone in on better fitting ones.
Joy compared pointe shoes fitting to solving a puzzle – matching different shoes to feet of various sizes and shapes. Much to my relief, each subsequent pair felt better. I was not sinking into the box, my toes were not hitting the end, and my feet felt breathable snug but not squeezed (or encased in a wooden box). After trying about 8 pairs, I found the most comfortable pair to be the Suffolk Standard Spotlight, 5 ½ N.
After purchasing the shoes, ribbon, elastics and Gellows by Pillows for Pointe toe pads, I thanked Joy profusely for her patience and expertise. Driving home merrily humming to myself, I called my daughter to share my excitement. She asked, "What kind did you get?" I told her Suffolk Standard Spotlight 5 ½ N. Silence. Then she exclaimed, "Oh no, that's what I have, only mine are 5N. Now I want to get a different kind!" Nonetheless, this typical comment from an adolescent didn't dampen this adult ballerina's enthusiasm!
__________________________________________________