Although I've loved doing challenges (ab challenges, splits challenges, you name it), I've been horrible at actually keeping up with them. This time I have some fellow bloggers keeping me motivated with this awesome 30 day Squat challenge, and a competition with HQ of Run Play Sleep (my boyfriend) to keep me motivated to get my splits.
30 Day Squat Challenge
Syreeta of Sincerely Syreeta started this challenge on Instagram and invited other people to join her so we could keep ourselves motivated. Today is my Day 3.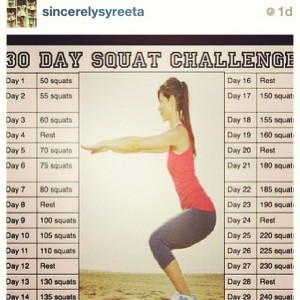 I've split my squats between plie/sumo squats and normal body weight squats.
If you're interested in joining us, you can learn more and connect with Syreeta on Twitter. Read more about Syreeta in my interview with her for Campus Philly.
Splits Challenge
This is more a competition than it is a challenge. Hq and I are competing by safely stretching every day to see who can get their splits first. The person who achieves them first owes the other a dinner out. I'll be posting updates relatively frequently on this challenge.
How do you motivate yourself? Do you participate in challenges like diet bets and 30 day challenges?