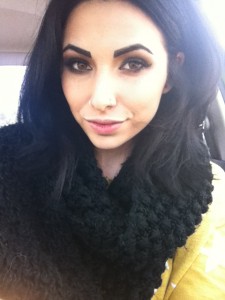 Unfortunately over the week I seem to have developed a bit of a chest cold that prevented me from going to dance (among other things). What's with this summer cold business?? Anywho, I was hoping to post a nice tutorial blog with photos of a DIY stand alone barre that I made before I started feeling unwell but because I am not up to setting up to do the pics for that post, it will have to wait until next week. Why even tell you, you ask? Perhaps then maybe you'll be motivated to check back because that DIY barre is a life saver for a busy lady like myself who just wants a 20 minute tendu sesh here and there. Now that I've dangled that like a carrot in front of your face (mwahaha), I'll get on to my post for this week which is a bit inspired by the lovely Queen Michelle at Kingdom of Style, but a more beginner focused version.
I'm currently in the process of switching studios because the one I currently go to is so far away. I figured that since finding a studio/class and going to the first class is a huge hurdle for a lot of adults who want to begin ballet but haven't yet I'd write about that process. I'll address some of the most important concerns I first had myself.
1. I'm going to look like an idiot. Ok. So this fear of mine really was the absolute biggest I had that stopped me from starting up a class.  It's hard to start something if you have little to no experience with it. You can be nervous that people will laugh at you or that you'll be the center of attention cause you can seem to EVER get into first position. I have tested the waters with a few classes and can tell you, from personal experience, that this is 95% of the time not the case. Adult beginner classes are just that- BEGINNER. Even if you don't know a plié from a piqué, it's unlikely that anyone will judge you for it. You're there to learn and build these skills just like everyone else. From my experience it's just been an hour of laughing and commiserating because no one is perfect! We all have our "looking silly" moments, and you know what… it's ok that it's funny because it's fun!
2. I have no idea what studio is the best fit. This one has the easiest solution: try them all! Many studios offer the first class for free or allow you to come watch for free. If you're concerned with fit of the style of class and the instructor, it's always a very good idea to check it out. Sometimes you'll love it, sometimes you won't but HEY! it was a free ballet class and that never sucks!
3. I'm nervous about the other people in the class being WAY better than me, judging me, or being cliquey. This one is a little similar to the first but not quite the same. This was a big concern for me for my first few classes. I'd arrive early, sitting in the lobby stretching and no one would talk to me. It was a weird feeling to be on the outside. I'd look around and see some women in their 40's talking about their daughters' recitals and having a hard time stretching. Then I'd see a 16 year old who could not possibly be in my class (just look at her with her perfect ballet bun in the front splits reading a school book!). Then I see a 60 year old woman with her leg stretched over her head in the corner. I am like absolutely none of these ladies. How on earth do I belong here?! Let me tell you how we ALL belong here- we love ballet. After class begins each time, any sort of social barrier gets left at the door and we all have a great time focusing on our technique, stretching together, and joking around. Moral of this story is: you may meet some friends at ballet, but if you don't that is OK too. You're there for dance and in the end that is what will unite you!
4. I don't have time! This is something that I still struggle with when it comes to ballet. I find myself tempted after a busy week and when I know that I have lots of homework to skip ballet (whether at home, using a video, or in a studio). We're all busy but it's really important to make time to take care of your mind and body and ballet is great for me to do both. I fought myself for hours last week whether or not I was going to go to class. I was grumpy the whole way there. But about 10 minutes into class, I forgot about being busy and just enjoyed moving. So, if ballet is for you then make time! Even if its just 30 minutes at home or an hour of class a week. On occasion if I'm particularly busy or if I'm traveling, I just squeeze in a 15 min Ballet Beautiful workout along with some stretching.
Hopefully that covers some of the fears some of you may be having about starting a ballet class or about being in one. If there are any other things you can think of, I'd love to hear them in the comments and we can talk about them as well! I'd also love to hear any ideas about what you'd like to hear about from the beginner perspective, I'm open to it all! Again I apologize for the lack luster post due to my being sick, but I promise I'll make it up to you with that DIY barre post when I'm better.