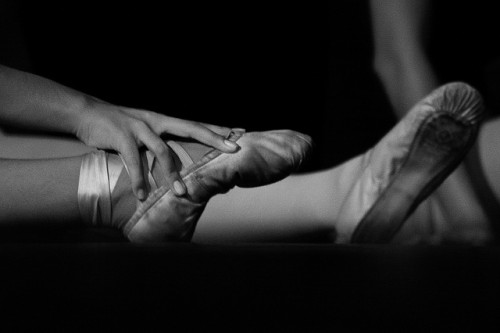 Many adult ballet dancers take a break for various reasons like work, family and school obligations, health issues and financial constraints. Returning to ballet after any hiatus is often difficult. Even harder for me was deciding whether or not to return. Until 10 months ago and despite having Morton's Neuroma, I attended 2-3 ballet classes per week. Non-surgical treatments (Epsom Salt soaks, acupuncture, acupressure, cortisone shots and even ultrasound guided radiofrequency ablation – which is sounds scarier than it is) helped temporarily, but eventually dancing full-out become impossible. Rolling up onto demi-pointe was painful; even everyday walking in comfortable sneakers hurt. If I stood high up enough on my toes (e.g., en pointe or on 3-inch heels), I could roll through and past the neuroma in the ball of my foot. However, in flat ballet slippers or low heels (like 1-inch character shoes), my weight rested squarely on the ball of my foot, radiating pain to my third and fourth toes.
Stubbornly, I kept trying to dance but eventually stopped; I had to stay on flat or mark steps whenever I put weight on my left foot. After years of avoiding surgery for Morton's Neuroma, I finally gave up and gave in. Due to work and family obligations, however, I couldn't fit surgery in for another 5 months! During that period, I missed ballet but also felt strangely relieved too, no longer rushing to and from class squeezed in between meetings and errands.
In the meantime, on other adult ballet blogs I found similarly ambivalent feelings towards ballet. Last year Nikki (profiled on ABP) of Mercietchatons also had surgery and during recovery wrote, "You'd think I'd be dying to go to dance. But I don't. I want to be normal again most of all." Nikki returned to class but noted, "sadly a lot of the Adult Ballet-er blogs I followed have gone silent." I was touched by the insightful, articulate and self-aware posting by Zoe (also profiled on ABP) of Bush Ballerina on why she decided to stop dancing this summer. Blogger Rheumatic Princess admitted, "I'm in such a ballet funk. I really just don't want to go at all, right now."
5 months post surgery: I've endured a slow but steady recovery that progressed from barely putting weight on my left foot and using my hands to bend my toes to walking 2 miles and pointing my toes unassisted. Physically, I may be ready to return to ballet but ask, why?
My reasons for "why not" are:
Money (gas, parking, class fees, gas)

Time (a 45-minute commute

each

way to and from the studio for a 1½ hour class)

Preparation (changing on the run; remembering necessities like a water bottle, shorts to wear over my leotard, change for parking, etc.; putting up my hair at red lights)

Guilt (I'm not a pre-professional teenager and thus have trouble justifying devoting so much time, money and energy to ballet).

Fear (Will my foot hurt? Will I be able to dance?  If so, will I ever return to my previous level?)
My reasons for "why" are:
I couldn't live with myself if I didn't try at least a couple of classes again

Ballet is one of the few forms of exercise I actually like

Ballet is a unique pursuit among 40-something suburbanite women (that I know)

I love and miss dancing ballet
During recovery, the only ballet step I've executed outside of physical therapy and on my own at home was relevé (on both feet) to put away dishes in the kitchen. I've tried to relevé on my left foot alone only a few times and for no longer than 2-3 fraught seconds. Was I really ready? A professional ballerina friend was encouraging but advised, "Take it slow and don't be frustrated by not being able to do what you used to do."
Fast forward to after my first class back, which I'll discuss in another post: I enjoyed it! I survived class and fulfilled my 3 criteria of success:
I didn't fall or hurt myself

I didn't hurt or make anyone else fall

I didn't get in anyone's way
The disciplined barre exercises, muscle memory/ingrained technique for combinations (on both sides), live piano music, and my welcoming teacher and classmates all made me feel like I returned home after a long trip. I'm rusty, weak and out of shape, but at least I'm back.
Image via Flickr User Kryziz Bonny via Creative Commons License 
__________________________________________________