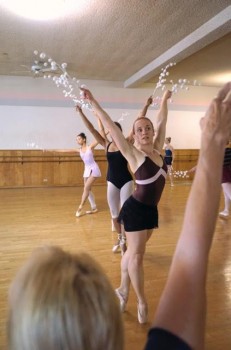 When did you start doing ballet as an adult?
I started back about 2 months ago (early September 2015) after a 2 1/2 year hiatus.
Did you ever take lessons as a kid?
I did! From age 4 and up through college and beyond.
Why did you decide to take ballet as an adult?
I thought I was done with ballet because of the emotional toll and having gotten married an started a family. But I simply cannot live without it. It's who I am, and I knew I needed to get back.
Where do you take classes?
Lois Ellyn Ballet Studio in Fullerton, CA. I've also studied at UC Irvine (while in college) and at Maple Conservatory in Irvine, CA
What is your favorite part about ballet?
I love the challenge. I love that you will never attain perfection yet you always work for it. I love the grace of ballet and freedom that comes with movement. I also love the work ethic that ballet taught me growing up.
What is your least favorite part?
The pressure to be skinny and the intense competition. Those are what caused me to take a break for a few years. I needed to grow and mature and realize that I dance for me and no one else.
Who/What is your ballet inspiration?
There have been many over the years, but my current favorite is Misty Copeland. The fact that she is local to Southern California, broke a racial barrier, and does not have the "typical" body yet is a principal dancer with ABT just makes me HAPPY. As a girl who can put on muscle very easily and struggled with not having the "perfect body," I love seeing dancers with similar bodies to me make it big.
What motivates you to keep dancing?
I took a break already, and I don't want to do that again and have to come back again. I've been lucky this time in that my technique still seems pretty solid and most things have come back to me. But that may not be the case if I ever were to take a break again. I also want to keep dancing and share my love of it with my daughter. She may not end up loving it as much as I do, but if she does she needs the encouragement to stick with it even when it's hard.
Do you take any other dance classes?
No, ballet is my favorite. Nothing else really compares for me.
What are your hobbies outside of ballet?
I enjoy other types of workouts, especially PiYo, and have also run some half marathon and marathons. But right now it's all ballet, writing my blog, and working with women to help them get in shape physically and emotionally.
What advice would you like to give to those who want to start ballet or have just started?
Don't give up!! When you first start, especially as an adult, there is a very steep learning curve. Give yourself some grace and just enjoy learning something that not many people in this world can say they've learned.
Anything else you'd like to add?
Try ballet. Seriously, just do it. It's the best.
Do you have a blog?