A couple of weeks ago, Joy wrote an amazing blog post here on Adult Ballerina Project that was one of our most well-received posts ever, Plus-Sized Ballet. If you want to learn more about Joy, check out our interview with her below: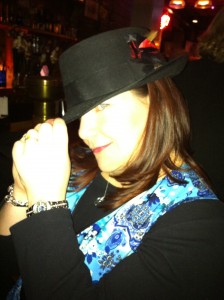 When did you start doing ballet as an adult?
Joy: Two years ago, I lamented to my best friend's mom (who has been a dance teacher her whole life) that I could not find an adult ballet basics class.  She offered to teach one at her studio if I could recruit more students.  It was usually just me though so after a few months, I thanked her and went on the hunt again.  Didn't seem right to be taking up that studio time every week.  Last year, I finally found my ballet home and am now taking two classes a week.
Did you ever take lessons as a kid?
Joy:  I remember taking a lesson as a wee tot in a school gym.  Then my middle school gave us weekly ballet classes but we spent more time changing into tights and leotards than actually at the barre.  I also took Irish dance for seven years of my childhood.
Why did you decide to take ballet as an adult?
Joy:  I began losing weight and felt very clumsy and uncoordinated.  I thought ballet would help me find my grace.  But in truth, it has taught that and so very much more.
Where do you take classes?
Joy:  Festival School of Ballet in Buffalo, NY.
What is your favorite part about ballet?
Joy:  The grace – which leads to my second favourite part, strength.  You don't realize just how STRONG ballet dancers are until you actual start attempting it yourself.  It looks so effortless (and really, isn't that the point?)
What is your least favorite part?
Joy:  Slow improvement.  This is probably just me but I struggle with basics like a good second position tendu turnout.  Seems like no matter how hard I try, I never seem to get it!  But I keep trying all the same.
Who/What is your ballet inspiration?
Joy:  My ballet inspiration is my best friend's mom.  She has been dancing and teaching for what seems like forever.  She's so healthy and vibrant and she is in her 70s!  I want to be like that when I grow up.
What motivates you to keep dancing?
Joy:  My desire to keep fit, mobile and healthy just like my parents.
Do you take any other dance classes?
Joy:  I've taken hip hop and zumba but after knee surgery last year, those went by the wayside.  Though I do miss them and want to try them again.  I am also an avid swing dancer with my fiancée.  And it all started with Irish dancing when I was 6.
What are your hobbies outside of ballet?
Joy: Bike riding is a relatively new obsession.  If I can bike there, I'll do that before I get in my car.  Better for me and the planet!  I'm also very blessed to be an actor with a day job.  I do anywhere from 2-3 shows a year.  I do better with straight plays but I enjoy the occasional musical too.  My dance abilities do me well at auditions.  I always say, I'm actor who can carry a tune and count to 8.
What advice would you like to give to those who want to start ballet or have just started?
Joy:  If you want to do it, don't give up!  Keep looking until you find that perfect dance studio.  Don't think after the first class you can't do it.  You CAN.  It doesn't come easy, it takes work but that is the point.  But you can do it if you are willing to put the effort in.  I started dancing with FSB in February 2012 and then found I needed knee surgery in May 2012.  I thought for sure I wouldn't be able to go back.  But I took class Thursday night, had surgery Friday morning and was back at the barre the following Thursday.  Nothing got in my way once I knew just how much I loved ballet.  Don't let anyone or anything get in the way of doing something you love.
Anything else you'd like to add?
Joy:  Speaking of not letting anyone get in your way – don't listen to the haters.  Random people on the street feel the need when they see my ballet school tshirt or hoodie, to comment on how I couldn't be a ballet dancer.  I'm too heavy, I'm too old, whatever.  I've had it said to me at the grocery store, in traffic while I'm on my bike, heck even people I know have suggested I might be out of my league with ballet.  DO NOT LISTEN.  Listen to yourself.  I have felt for my entire life that I had a dancer in me.  It took me until I was in my late 30s to truly answer the call and feel good enough to call myself A DANCER.  I'll be dancing till I die now, no matter what anyone says.