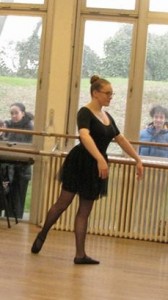 This week's profile comes all the way from France:
Cynthia, who runs a blog over on Tumblr at http://alldayandallnight.tumblr.com/, shares why she started ballet at age 24.
When did you start doing ballet as an adult?
I started this year, in September, at age 24.
 Did you ever take lessons as a kid?
No. I would have loved to but my mom was against the idea 🙁 I did rhythmic gymnastics as a kiddo but quit after a few years. I went back to gymnastics (artistic this time) for leisure at age 15 and never stopped. Now I help training the kids and use some time to work on my flexibility.
 Why did you decide to take ballet as an adult?
Last year I took a floor barre class. I thought I would never be able to start ballet so late, so I figured floor barre would be a way to get nearer the ballet world. I was quite anxious but the teacher was really nice, and it seems everyone there had wanted to take ballet classes but didn't. I wasn't able to attend it again this year, so I took my courage and asked if I could join a ballet class. The beginner's class was only for kiddos, but she said I could definitely come to the advanced class. I did; and although the first classes were just a blur, I enjoyed it so much!
Where do you take classes?
I take classes, 2 hours twice a week, at a little studio in my hometown (near Paris, France).
 What is your favorite part about ballet?
(Can I say the male ballet dancers' butts?) The grace of the dancers. And the costumes! Personally I feel like the hippopotamus in Fantasia but I'm working on it.
What is your least favorite part?
Turning. I really have bad upper/lower body coordination but my head… it doesn't like to turn. And being behind in classes; the others all have years and years of practice, so sometimes I feel like I don't belong here.
 Who/What is your ballet inspiration?
Probably my dance teacher. She's really a great teacher, very nice – and beautiful ! She pushes us to our best. She believed I could perform a variation after only 4 months. And I did. I'm eager to see what we'll do for the annual gala.
What motivates you to keep dancing?
I simply love it, even though it's hard sometimes – it's really a dream come true, so I won't let it go. And that my dance teacher believes in me. I'm shy and a negative person, so it helps to have someone acknowledging your improvements.
 Do you take any other dance classes?
No. But I'd love to learn other dances (like Irish dance or hula) !
What are your hobbies outside of ballet?
I'm a bookworm. And I love going to the museums. I'm also a student-teacher and would like to teach French abroad.
What advice would you like to give to those who want to start ballet or have just started?
No matter your age, your body shape, your flexibility… you can do it if you want it! What's important is to do it with passion. Go dancers!
 Anything else you'd like to add?
If you're willing to understand the basic moves and vocabulary before your first class, or even if you get lost at some point, you can find videos on youtube and stuff in books at the library. And of course, don't hesitate to tell your dance teacher you didn't understand.
 Do you have a blog?
Yes: www.alldayandallnight.tumblr.com
I blog about books, rugby, ballet, gymnastics, but mostly silly stuff and personal bits too.